US Transfers $6 Million in Vehicles and Equipment to Tajikistan
More stuff for Tajikistan's border services, courtesy of Washington.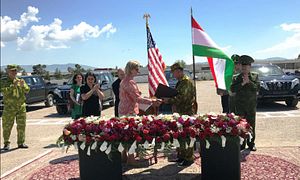 In lieu of a new Central Asia policy in Washington, the old one remains in place. That includes the regular transfer of millions in vehicles, other equipment, training, and infrastructure to Tajikistan's border services. Despite Tajikistan boasting a despotic and nepotistic regime, which has spent the last two years decimating its opposition, U.S. security assistance continues apace.
This week, U.S. Ambassador to Tajikistan Elizabeth Millard shook the hands of General Lieutenant Saymumin Yatimov, chairman of the State Committee for National Security, and General Lieutenant Rajabali Rahmonali, the border force commander. The SCNS is the Tajik successor to the Soviet-Era KGB and oversees both internal and border security issues, from dealing with organized crime to counterterrorism, counterintelligence, counternarcotics, and surveillance.
According to the U.S. embassy, the United States has provided $155 million in equipment, training, and infrastructure to Tajikistan via CENTCOM's counternarcotics program to Tajikistan since 2006. Last year, the United States donated $12 million in equipment, including $3 million in Jeep Wranglers. In 2015, the U.S. transferred more than 60 pieces of tactical equipment to Tajikistan's riot police — known under the acronym OMON — a small transfer worth only $260,000 but notable because it occurred the same week the United States designated the former OMON commander a terrorist (more on that below).
In the United States, foreign aid is a contentious domestic political issue despite the fact that many wildly overestimate how much Washington gives to other countries. What gets less airtime, domestically, is security assistance funneled through the Pentagon. As I wrote last year, "There are several laws in place in the United States designed to keep military assistance away from abusive foreign governments, but most of the laws have significant loopholes which allow for exceptions that render the laws almost useless."
Take, for example, the fact that Tajikistan has been recommended as a "country of particular concern" (CPC) by the U.S. Commission on International Religious Freedom (USCIRF) since 2012. USCIRF's annual report, mandated by a 1998 law, recommends "countries of particular concern" to the secretary of state. If State takes the recommendation and designates a state as a CPC it opens the path to sanctions and restricts security assistance — unless such punishments are waived. In February 2016, the State Department designated Tajikistan as a CPC for the first time and did again in October 2016. USCIRF has again recommended Tajikistan for CPC status.
Yet sanctions have been waived for Tajikistan (as well as Turkmenistan, Uzbekistan, and Saudi Arabia) on account of the "important national interest of the United States" and thus, security assistance continues.
Tajikistan isn't just troubling for freedom of religion reasons, though, and the SCNS is at the heart of various state abuses. As EurasiaNet noted, the SCNS "is charged with, among other things, enforcing the government's heavy-handed line against political dissidents and journalists."
It is quite the delusion to believe that the $6 million in equipment transferred this week will be used exclusively for counternarcotics activities. Investments to date — spread across various programs — don't seem to have dented the opium trade coming out of Afghanistan, which in part routes through Tajikistan. Once the United States hands over money and equipment, Washington loses control over how the goods are used. This reality is why there are, as mentioned above, laws which restrict aid and assistance to abusive foreign governments. But as Nate Schenkkan, the project director for Freedom House's Nations in Transit, wrote in February 2016, "all too often, the U.S. government itself fights hard to skirt its own weak restrictions."
A haunting example of U.S. funding gone awry is that of former OMON commander Gulmurod Khalimov, who benefited from five counterterrorism training courses, some in the United States, others in Tajikistan, through the Department of State's Diplomatic Security/Anti-Terrorism Assistance program. Khalimov later went on to join Islamic State (ISIS), where his expertise (also acquired through Russian training programs) was valued highly. He was reported killed last month in Mosul.
On September 29, 2015, after news broke of Khalimov's defection to ISIS, he was designated as a terrorist by the U.S. government. A few days earlier, on September 25, then-U.S. Ambassador to Tajikistan Susan Elliott smiled at a ceremony transferring the 60 pieces of equipment to OMON.