SCO Set to Expand, Adding India and Pakistan
Does it matter that two new flags will rise in Beijing?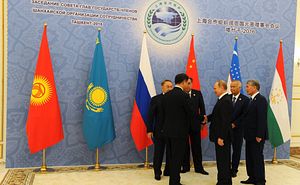 Soon a pair of new flags are set to rise over the Shanghai Cooperation Organization (SCO) headquarters in Beijing. Representing the SCO's first expansion since its 2001 inception, the ceremony — formally welcoming India and Pakistan to the SCO — will be filled with all of the pomp, circumstance, and heady talk of regional cooperation and swelling camaraderie to which regional observers have grown accustomed over the past few years.
Indeed, the accession of India and Pakistan, coming this week during the SCO's summit in Astana, is something of a regional watershed. After acting as a Russian, Chinese, and Central Asian talk shop for the better part of the past two decades, the SCO is set to undergo the first formal expansion it's ever known. The inclusion of both India and Pakistan will not only expand the SCO's geographic writ, pushing it that much closer to a pan-Asian forum, but, with India's inclusion, the SCO suddenly finds itself with that much more geopolitical heft.
But where such an expansion in, say, 2011 may have piqued interest in Brussels, Washington, and Jakarta, this week's expansion appears far closer to an anticlimactic conclusion than Beijing or Moscow — or Delhi or Islamabad — would have it. To be sure, there are potential benefits to seeing India and Pakistan simultaneously joining another regional forum; as Chinese Foreign Ministry spokesperson Hua Chunying said in discussing the accession, "I see the journalists from Pakistan sit right here, while journalists from India sit over there. Maybe someday you can sit closer to each other."
And there's an outside possibility that SCO membership may, indeed, help Islamabad and Delhi push past some of their recently building tensions. But many of these recent pressures — including Kashmir — have been exacerbated, as the New Indian Express related, by Chinese investments in Pakistan, namely via the China-Pakistan Economic Corridor (CPEC). As India Today reported that the SCO "has also said it would back China's One Belt, One Road (OBOR) initiative," it's that much clearer why China pushed to bring Pakistan into the SCO's fold.
Meanwhile, Russia's backing of India's accession would appear to come from a desire to dilute Chinese influence in the group. As India Today continued, "For Russian observers, India's entry is being seen as welcome in terms of making the grouping less China-dominated particularly as the security grouping begins to engage in economic initiatives." Given the clear amity between Russian President Vladimir Putin and Indian Prime Minister Narendra Modi — such that the two were photographed this week holding hands while strolling — Russia's support for India joining the SCO is that much more unsurprising. As Modi said this week, "India and Russia have always been together on international issues" — even if that means weakening Beijing's dominance of the SCO.
All told, the SCO's looming expansion almost certainly won't exacerbate the tensions running between India and Pakistan. But that doesn't mean it's necessarily the milestone regional representatives would have it be. If anything, SCO coordination — what exists of it — is set to become that much more difficult moving forward, especially as it pertains to focusing on terrorism. Indeed, when India and Pakistan first entered the path to formally joining the SCO two years ago, many observers surmised this was because China actually wanted to toss a wrench into the SCO's gears, all the better to allow Beijing to act unilaterally. (Although the potential for regional refoulement will likely grow with the accession.) Likewise, Russia's Crimea annexation, as well as its ongoing occupations in Georgia, have effectively neutered SCO claims about fighting the "three evils," which include separatism.
So a few more flags will rise in Beijing, and a few more members will, for the first time, join the SCO. But the organization's time — like the BRICS, that other organization housing the India-China-Russia triumvirate — appears to have passed it by, no matter how much expansion may soon come.