The Shanghai Cooperation Organization: Harmony or Discord?
The SCO is not a platform for harmony or discord per se, rather it is what the members make of it.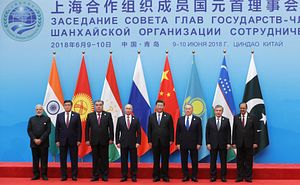 The Shanghai Cooperation Organization (SCO) is increasingly the object of debate and commentary among key decision-makers and policymakers across the vast region it covers and beyond. Some analysts refer to the SCO as a novel non-Western platform for global governance or characterize it as a new paradigm of international relations.
In any case, the SCO is regarded as more than a mere conglomerate of regional countries with colonial pasts coupled with a number of leading powers. Although initially, the SCO seemed to be a low-profile group, with the chief concern resolving border issues between Russia, China and the Central Asian states, it has evolved into an arrangement that could influence the Eurasian space in many constructive ways. Over time, counterterrorism has also become a key area of multilateral cooperation within the SCO.
Structurally, the SCO is different today from its original foundation as the Shanghai Five in 1996 and the Shanghai Six after admitting Uzbekistan in 2001. The SCO summit in 2017 brought in India and Pakistan (former observers) as new members. The SCO's eight members now account for about half of the world's population, a quarter of the world's GDP, and about 80 percent of the Eurasian landmass. Two of the SCO members are permanent members of the UN Security Council (Russia and China), and four are nuclear states (Russia, China, India, and Pakistan). Three of the SCO members are part of the BRICS grouping (Russia, China, and India). All of this grants considerable perceived political value to the SCO.
Harmony and Discord
If mismanaged, the SCO — with four nuclear powers, all having divergent international agendas — could turn into an arena of conflicting national interests, the very scenario the SCO was initially designed to avoid.
India and Pakistan, the group's newest members, are essential factors in the SCO's harmony or potential discord. Both India and Pakistan expect to have a bigger say in urging for concerted action in addressing security and defense issues in Central and South Asia via membership.
UN Secretary-General Antonio Guterres hailed India and Pakistan's SCO membership, hoping it would give the countries a new space to work out their differences. At least rhetorically, both countries have assured that the SCO is able to provide a platform for regional cooperation and connectivity and hence can contribute to refreshed relations between Pakistan and India.
But at the same time, both countries still suspect the other side does not view the SCO in such a context. Islamabad and New Delhi both assure that their unresolved disputes are not international or multilateral, which means both should refrain from the temptation to use multilateral fora – like the SCO – for raising bilateral claims and complaints. Thus the SCO is not a platform for harmony or discord per se, rather it is what the members make of it.
The next important point is the underlying interactions of powers — in particular nuclear powers — within the SCO. As expected, geopolitical logic suggests that Beijing's support for Islamabad and Moscow's bid for Delhi should be viewed as a counterbalance action between China and Russia.
Furthermore, India was the only SCO member to refuse to endorse China's Belt and Road Initiative (BRI), for which Beijing has signed pacts with nearly 80 countries and international organizations. The BRI, an ambitious connectivity project launched by Chinese President Xi Jinping in 2013, was backed by Russia, Pakistan, and all of the SCO's Central Asian members. Indian Prime Minister Narendra Modi referred to the $50 billion China-Pakistan Economic Corridor, which is part of the BRI, and which passes through Kashmir, a disputed territory between India and Pakistan, as part of New Delhi's objection to the BRI. For India, the project ignores its core concerns over sovereignty and territorial integrity.
For the future smooth functioning of the SCO it is important that China and India harmonize their positions on such concepts as inclusivity and connectivity, and the ensuing arguments regarding respect for sovereignty.
Future Enlargement?
At present, the SCO has eight full members, four observers, and six "dialogue partners." In 2010, the SCO approved the procedure for admitting new members. Iran and Afghanistan, as well as Gulf states like Bahrain and Qatar, have made appeals for joining the organization. The leaders of Iran and Afghanistan are regularly invited to attend SCO summits.
Iran is a special case. Opponents of Iran's membership refer to its nuclear activities and UN-mandated sanctions, arguing that the SCO should not admit any country under UN sanctions. Nevertheless, China invited Iranian President Hassan Rouhani to participate in the 2018 summit in Qingdao. As it was the first summit after the inclusion of India and Pakistan as members, some analysts viewed it as a signal of support for Tehran's bid for membership. Iran's inclusion also comes at a critical point in time given U.S. President Donald Trump's withdrawal from the nuclear deal signed in 2015 between Iran, the European Union, and the P5+1 group, of which China is a member.
It seems likely that the SCO's membership will continue to evolve. However, experts are conservative about idea of SCO expansion, expressing skepticism about the group's ability to balance expansion with efficiency. The SCO will have to choose between "blind expansion" nurtured by excessive enthusiasm and "balanced expansion" tailored for the needs of the organization. Success will hinge on the SCO's ability to accommodate the paradoxes of "enlargement" versus "deepening."
Global Counterbalancing and Rivaling
The more representative and assertive the SCO becomes, the more debates arise about its potential to rival and counterbalance certain Western multilateral arrangements. Some have even gone so far as to state that the SCO is a direct threat to Western powers.
The SCO should give a clear message that it is not a rival nor a potential opponent of the Western order. First of all, it needs to focus primarily on internal stabilization measures within its own perimeter rather than external military or ideological threats. Second, the SCO needs more emphasis on promoting economic globalization and trade in its spacious area, enhancing interconnection and interoperability between the regions. Third, it also needs to deal with critical issues of historical, cultural and identity differences among its members.
In the near future the SCO will remain preoccupied with internal dimensions such as economic growth and trade, and will not position itself as a direct threat to Western multilateral organizations, at least not in the military or economic arena. Major players in the SCO would prefer to continue working for an inclusive and multipolar global order without standing in opposition to other regional integration processes.
Conclusion
So, what kind of Shanghai Cooperation Organization are we going to have in the years to come? As a member-state participant of the first Shanghai Cooperation Organization People's Forum, which adopted the Xi'an Declaration on April 9-10, 2018, I could share my personal observations and conclusions.
I agree that the SCO is subject to numerous polarizing comments about its present-day status and future prospects. Some experts suggest that the SCO is mainly a tool run by major players in Eurasia. But I believe that this organization has great potential. One indicator of its successful performance can be viewed in the context of two important international summits taking place in two different hemispheres in parallel — G7 summit in Canada and the SCO summit in Qingdao.
As Catherine Putz of The Diplomat noted, these two summits drew sharp comparisons, raising the question "A West in Crisis, an East Rising?" The results of the SCO summit generated much optimism while the G7 summit generated the opposite.
Much depends on how each SCO member defends its own national interests and accommodates the interests of others. Member states should avoid resolving their bilateral claims at the expense of the multilateral framework.
The SCO is not a platform for either harmony or disharmony. Ultimately, it is what we make of it.
Jaloliddin Usmanov is executive director of the International Press Club, Tashkent, Uzbekistan.