China Reacts Angrily to Latest US South China Sea Freedom of Navigation Operation
China says the latest U.S. freedom of navigation operation "infringed upon" its sovereignty.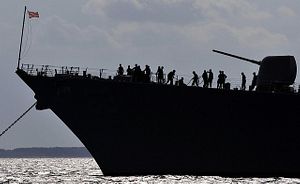 China has reacted forcefully and negatively to the United States' latest freedom of navigation operation near one of its island possessions in the Paracel Islands group in the South China Sea.
On Monday, following the USS Stethem's operation within 12 nautical miles of Triton Island, the Chinese Foreign Ministry issued statement outlining that the vessel had "trespassed" China's territorial waters. In response, "China dispatched military vessels and fighter planes in response to warn off the US vessel," Geng Shuang, the foreign ministry spokesperson, noted.
"Under the pretext of 'navigation freedom', the US side once again sent a military vessel into China's territorial waters off the Xisha Islands without China's approval," Geng added.
"Its behavior has violated the Chinese law and relevant international law, infringed upon China's sovereignty, disrupted peace, security and order of the relevant waters and put in jeopardy the facilities and personnel on the Chinese islands, and thus constitutes a serious political and military provocation. The Chinese side is dissatisfied with and opposed to the relevant behavior of the U.S. side."
Differing interpretations of what freedom of navigation means under international law continue to be a point of divergence between Washington and Beijing in the South China Sea. China claims to support freedom of navigation, but discriminates between civilian and military vessels.
Under the United Nations Convention on the Law of the Sea, which the United States has not ratified but nevertheless treats as customary law, military vessels are permitted a limited range of activity within territorial seas by complying with innocent passage requirements. The Stethem's operation practiced innocent passage like the USS Curtis Wilbur's operation near the same island in January 2016.
The Chinese Foreign Ministry also pointed to recent progress between China and the ten-member Association of Southeast Asian Nations (ASEAN) as evidence of Beijing playing a pacifying role in the region. "Working together, China and ASEAN member states have cooled down and improved the situation in the South China Sea." ASEAN and China agreed to a draft framework for a Code of Conduct on the South China Sea earlier this year.
"The U.S., who deliberately stirs up troubles in the South China Sea, is running in the opposite direction from countries in the region who aspire for stability, cooperation and development," Geng added.
The Chinese reaction to the latest U.S. freedom of navigation operation suggests that the operations will continue to be polarizing in the South China Sea. Washington and Beijing continue to see no overlap in their positions.