Maritime Asia Update: Malabar 2017, India's Project 75I Sub, and EEZ Surveillance
The Diplomat's editors survey recent maritime and naval developments in Asia.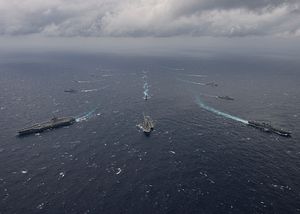 The Diplomat's Ankit Panda (@nktpnd) and Prashanth Parameswaran (@TheAsianist) discuss recent maritime and naval developments in the Asia-Pacific region, including the Malabar 2017 exercise, a potential Japan-India submarine deal, and the Chinese People's Liberation Army-Navy's surveillance activities with exclusive economic zones.
Click the arrow to the right to listen. If you're an iOS or Mac user, you can also subscribe to The Diplomat's Asia Geopolitics podcast on iTunes here. If you use Android, you can subscribe on TuneIn or on Google Play Music. If you like the podcast and have suggestions for content, please leave a review and rating on iTunes and TuneIn.