US, South Korea Fire Missiles in Response to North's ICBM Test
The United States and South Korea conducted a precision-strike missile drill in response to North Korea's recent ICBM flight test.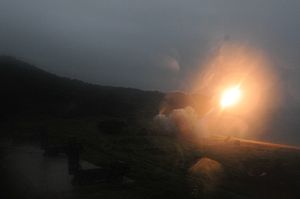 U.S. and South Korean forces test fired a number of deep strike precision capable missiles in response to North Korea's purported second-ever flight-test of the Hwasong-14/KN20 intercontinental ballistic missile (ICBM) on July 28 within hours of the suspected launch, United States Forces Korea (USFK) said in a statement.
U.S. Army and Republic of Korea Army personnel launched two missiles from the Army Tactical Missile System (ATACMS) and two ballistic missiles from the Republic of Korea Hyunmoo 2 system. According to the USFK statement, the missiles impacted in the sea east of the Korean peninsula.
"The ROK-U.S. Alliance remains ironclad and our combined efforts showcase the capabilities of this Alliance," said Lieutenant General Thomas Vandal, the commander of the U.S. Eighth Army. "I assure you we are ready to fight tonight, will deter North Korean provocation and if necessary defend the Republic of Korea."
The U.S. Army and ROK military also conducted a precision-strike exercise in response to Pyongyang's first-ever flight test of an ICBM on July 4. The U.S. Army noted at the time that the missiles, capable of engaging "the full array of time critical targets under all weather conditions," can be "rapidly deployed and engaged."
ATACMS, fitted with a 230-kilogram high explosive warhead, is a long-range guided surface-to-surface missile capable of destroying targets at a distance of up to 300 kilometers. The U.S. and ROK militaries have deployed near the intra-Korean border dozens of ATACMS.
The ROK military presently operates two variants of the Hyunmoo ballistic missile, the Hyunmoo 2A and 2B ballistic missiles. Both surface-to-surface missiles have estimated maximum ranges of 300 kilometers and 500 kilometers respectively, and each is capable of carrying a payload of up to 500 kilograms.
As I reported in June:
South Korea is also working on fielding an extended range Hyunmoo 2 missile with an estimated range of 800 kilometers.  The last test launch of this new missile, likely to be designated the Hyunmoo 2c, took place on June 23 and was overseen by South Korean President Moon Jae-in. The new missile is expected to become operational by the end of 2017.
The deep precision-strike capable missiles are part of Seoul's deterrence strategy vis-à-vis Pyongyang, known as Korea Massive Punishment & Retaliation (KMPR). KMPR foresees precision strikes with ballistic missiles, cruise missiles, air-launched missiles and special operations forces against North Korean leader Kim Jong-un and the country's military leadership in the event of a nuclear attack. ROK military plans also call for preemptive strikes against Pyongyang if there are signs that a nuclear strike is imminent.