Nepal-China-India: Three's a Crowd?
Time will tell how Kathmandu chooses to navigate strategic waters that have become undoubtedly tricky sailing.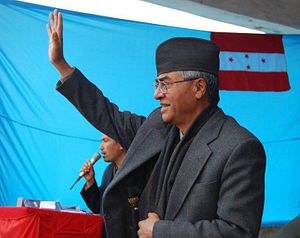 On August 23, Nepal's Prime Minister Sher Bahadur Deuba will arrive in India to begin a four day state visit. The visit will be Deuba's first trip abroad, and comes as the Himalayan nation struggles to find its footing in a regional rivalry that is literally and metaphorically bigger than Nepal itself. Since the standoff between India and China in Doklam — a hitherto little-known strip of land at the tri-junction between Bhutan, India and China — began in June this year, the question of where Nepal stands in the conflict has been worrying Kathmandu.
Theoretically speaking, Nepal's preferred (and pragmatic) stance has been one of what it terms "equidistance" — essentially a fine balancing act between an erstwhile strategic protector and a new (and far richer) investor. In practice, of course, matters have been a little different, with ties between the two countries sliding backwards since 2015. India's tactless (but unofficial) five-month blockade at the border with Nepal over its concerns about the rights of the Madhesi people saw bilateral relations take a severe hit, both economically and politically. Coupled with the earthquake that further crippled the Nepali economy in 2015, it was the perfect time for China to make its official entry. This it did in the form of massive investments in infrastructure, a trump card that it has played with unfailing success in smaller, poorer countries (and continents, in the case of Africa), which are always desperately in need of a helping hand. Not surprisingly, then, 2016 saw China sailing past India into the list of top assistance providers to Nepal, and with $3.8 billion being pledged by Beijing this year alone, India's own commitments, at $317 million, are embarrassingly dwarfed. In a move that is very welcome to Nepal, feasibility studies are underway  for a Beijing-backed railway connecting Kathmandu to Lhasa in Tibet, cutting straight through the formidable barrier of the Himalayas, at an estimated cost of $8 billion.
In the current strategic context, then, of two great powers engaged in an unexpectedly stubborn standoff, Nepal appears to be assuming geopolitical significance — which, given its location, is not really surprising. Deuba's visit to India comes just after two crucial visits to Nepal — one by Indian Foreign Minister Sushma Swaraj, and the other by Chinese Foreign Minister Wang Yang. The two ministers visited Nepal within days of each other, and the strategic undertone can hardly be missed. It is clear that both India and China are courting Kathmandu as a possible ally in a confrontation that teeters daily on the brink of escalation.
An editorial in China's state-run Global Times has asked the question outright in an article titled, "Will Kathmandu swing to Beijing and stay away from New Delhi?" The editorial, published on August 20, explains that India and China's dual wooing of Nepal is a "competition between new complexities of the legacy of colonialism and Cold War logic, and the new global dynamics based on connectivity."
The truth is that the answer to this particular regional conundrum depends entirely on how Kathmandu chooses to play its cards. This is a situation that could be viewed from two different points of view. Nepal could go on the defensive, and choose to view itself as a regional playground-turned-battlefield where two great powers can flex their muscles. Another — and far more clever — alternative would be to use this situation to play one power against the other, while gaining economic benefits for itself.
There is no doubt that Nepal needs the kind of financial investment that China has the coffers for. This is one of the major reasons behind Kathmandu inking an agreement to hop onboard the One Belt, One Road bandwagon in May 2017, despite Indian pressure.  India, however, cannot hope to aspire to dole out the kind of aid that China is capable of handing out. Nor has it been able to inspire much confidence of late in Nepal as far as being an economic guarantor of any substance is concerned. Indeed, New Delhi's inability to get key projects off the ground is a blemish on its credibility and only provides a fillip to China's already considerable lure as an economic alternative.  That being said, Deuba is coming to India with a rather long economic and geopolitical wish-list, which includes the execution of the Mahakali Treaty (which he had signed on behalf of Nepal in 1996), access to India's power exchange market, boosting cross-border connectivity and the construction of an LPG pipeline from India to Nepal.
An inkling of how Kathmandu might possibly play this game lies in its leverage of the rivalry between India and China to procure financial aid for two of its three new railway lines. While Nepal will fund the third, China will provide aid for developing a railway line in the north, and New Delhi will look after the revival of the Janakpur line, connecting Nepal to the rest of the subcontinent. The policy of equidistance, formed by the erstwhile government of Pushpa Kamal Dahal "Prachanda"' signaled Nepal's recognition of the economic benefits that a partnership with China could bring to the table, while keeping friendly terms with India. The Deuba government has attempted to continue this policy, but Doklam has changed the geopolitical equation considerably.
Deuba now has a chance to redefine the meaning of "equidistant," vis-à-vis Nepal, India and China. The fact that he has chosen India as the destination for his maiden foreign visit could be seen as a mark in India's favour – but only time will tell how Kathmandu chooses to navigate strategic waters that have become undoubtedly tricky sailing.
Narayani Basu is an independent author and journalist with special interest in Chinese foreign policy and resource diplomacy in Africa and Antarctica.