Why Was the Pakistani Prime Minister in Nepal?
Pakistan and Nepal rarely exchange bilateral visits. This trip — under the gaze of India and China — has made waves.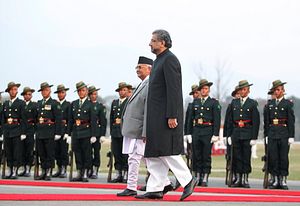 Pakistani prime ministers rarely pay official visits to Nepal, and vice versa. There are few significant bilateral issues between the two countries, which established relations in 1960, that demand frequent visits or meetings at the top political level between the two countries. Regional platforms like the South Asian Association for Regional Cooperation (SAARC) and other international platforms serve as a suitable enough opportunity to interact with each other.
Yet Pakistani Prime Minister Shahid Khaquan Abbasi landed in Kathmandu on March 5, marking the first official visit by a Pakistani head of the government in over two decades. The last Pakistani prime minister to visit Nepal on a bilateral basis was Benazir Bhutto in 1994. The heads of government for both countries have traveled to each other's capitals to participate in past SAARC summits — former Pakistani Prime Minister Nawaz Sharif had visited Nepal to attend the 18th SAARC Summit in 2014 — but purely bilateral visits are rare.
Abbasi's recent surprise visit to Nepal is special and his comments about regional matters have caused ripples in the South Asian political waters. Abbasi is the first high-level foreign dignitary to visit Nepal after the formation of the new government, led by Communist Party of Nepal (Unified Marxist-Leninist) (CPN-UML) Chairman K.P. Sharma Oli. Usually India and China rush to Kathmandu to congratulate new regimes, offering development assistance packages. This time Pakistan beat them both (although prior to the government's formation Indian Minister for External Affairs Sushma Swaraj had visited Kathmandu to congratulate Oli on his election victory).
The Pakistani prime minister's visit took place at a time when India and China are competing for influence in Nepal. Chinese and Indian ambassadors in Kathmandu frequently meet with Oli. For example, on February 23, Indian Ambassador to Nepal Manjeev Singh Puri and Chinese Ambassador to Nepal Yu Hong visited the prime minister's residence to extend their best wishes on his 67th birthday. The Indian and Chinese ambassadors have easy access to Nepal's leaders, more so than many other countries' diplomats.
During his visit, Abbasi congratulated the Nepali people for successfully holding three levels of elections last year, a milestone development in the implementation of the constitution adopted in 2015. The Pakistani prime minister, however, did not meet with the main opposition leader, Nepali Congress' Sher Bahadur Deuba.
On the bilateral front, both countries have agreed to expedite high-level engagement and enhance economic cooperation. Abbasi announced an increase in the numbers of scholarship to Nepali students in Pakistan.
During his two-day visit to Nepal, the Pakistani prime minister also raised some regional issues — and this is what has created a larger ripple in South Asia.
In particular, Abbasi raised the issue of SAARC. He urged his Nepali counterpart Oli and Chairman of the Communist Party of Nepal (Maoist Center) Pushpa Kamal Dahal to take measures to organize the 19th SAARC summit as soon as possible.
"Prime Minister Shahid Khaqan Abbasi stated that Pakistan is committed to the SAARC process and urged the leaders of Nepal to play their role for early convening of the SAARC Summit in Islamabad," a Pakistani foreign ministry statement read.
The 19th SAARC Summit was supposed to take place in Islamabad in November 2016, but it was canceled after India refused to participate in the conference. India accused Pakistan of "promoting cross-border terrorism." Since then India has maintained that the "regional atmosphere is not conducive" for holding the SAARC summit, a jab at Pakistan.
Bangladesh, Bhutan, and Afghanistan have supported India's position on SAARC, and joined the boycott. In a bid to isolate Pakistan, India has been pushing another regional grouping, the Bay of Bengal Initiative for Multi-Sectoral Technical and Economic Cooperation (BIMESTEC) — which includes Bangladesh, India, Myanmar, Sri Lanka, Thailand, Bhutan, and Nepal as members — as an alternative to SAARC.
Abbasi's visit conveyed the message to Nepal and other South Asian countries that Pakistan cannot be held responsible for the comatose SAARC process.
Nepal, as the current chair of SAARC, shoulders some of the responsibility for organizing the SAARC summit. Pakistan has taken a firm position that the summit must take place in Islamabad, and India must participate. It is not clear when the next conference will take place.
In Nepal, Abbasi also referenced India-Pakistan issues directly. According to the statement issued by Pakistan's foreign ministry, Abbasi raised the issue of Jammu and Kashmir in his meetings with Nepali leaders.
Abbasi also lauded China's Belt and Road Initiatives (BRI) and encouraged Nepal to "take benefit from it." India has strongly opposed the China-Pakistan Economic Corridor (CPEC), a part of the larger BRI design, saying that it passes through disputed territory. Abbasi, however, told Nepali leaders that Nepal can "learn from the success stories of CPEC."
In an interview with The Republica, an English daily in Nepal, Abbasi said, "I think Chinese President Xi Jinping has provided a great opportunity. I was at Davos in Switzerland and everybody was talking about BRI. This is a project of a generation, a paradigm shift. The whole region needs to connect into BRI which will then open markets and opportunities for us in the West and in Central Asia. There is a great potential here."
He went on to say, "BRI is basically China's push toward the West, and all the regional countries can connect into that. The opportunities are there and we just have to capitalize on that. For example, the visible part of BRI today is China-Pakistan Economic Corridor (CPEC). It basically is efficient access to the sea for all of the Central Asian countries and to Western China."
Abbasi lauded BRI at a time when the Nepal government is undertaking homework to select BRI projects after the signing of framework on the BRI in May of last year. China is pressing Nepal's government to select projects as soon as possible.
So far, India and China have refrained from commenting on the Pakistani prime minister's visit. One could easily guess that Beijing is happy with the visit, as Abbasi strongly advocated in favor of Chinese initiatives. India would be less pleased with Pakistan's prime minister urging Nepal toward China. While there has not been any official comment from India, the media and intellectual chattering convey dissatisfaction. Some Indian media have portrayed the visit as "unusual" and others go further, viewing it as a "China-led move to corner India in the region."  
Kamal Dev Bhattarai is Kathmandu-based writer and journalist. He closely follows South Asian issues.