South China Sea: US Navy Conducts Freedom of Navigation Operation
It was the third freedom of navigation operation conducted during the presidency of Donald Trump.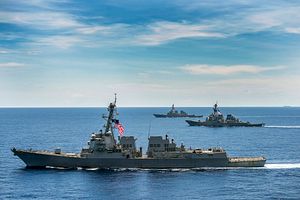 A U.S. Navy warship, the Arleigh Burke-class destroyer USS John S. McCain, reportedly sailed within 12 miles of Mischief Reef, host to one of seven artificial islands built by China in the Spratly Islands Group in August, U.S. officials told Reuters.
The U.S. Navy conducts so-called freedom of navigation operations (FONOPs), a principal of customary international law, to challenge China's excessive maritime claims in the South China Sea. As my colleague Ankit Panda points out, it is a measure of legal signaling and not used a deterrence tool.
The U.S. Navy has not publicly confirmed Reuters' report, and no additional details about the FONOP have emerged as the U.S. Department of Defense is no longer publicizing details of such operations.
The Pentagon releases an annual FONOP report describing specific operations. However, the Fiscal Year 2017 report will not be released until 2018.
The U.S. Navy's modern FONOP program begun in 1983. U.S. Navy FONOPs were not publicized and the service was careful not to specify the specific locations of operations until 2015 when U.S. Senator John McCain revealed that the U.S. Navy had not conducted FONOPs against Chinese-held islands in the South China for over three years.
The August 10 FONOP constitutes the third such operation conducted under the presidency of Donald Trump. The other two FONOPs occurred on in July and May respectively. Interestingly, the U.S. Navy's May FONOP also took place within 12 miles of Mischief Reef.  There is almost certainly careful legal reasoning behind this.
As The Diplomat has pointed out, Mischief Reef presents an opportunity to conduct a high-seas assertion FONOP, as under international law it is a low-tide elevation not entitled to any exclusive maritime zone, and it also not within a 12-nautical mile radius of another feature. As The Diplomat reported in May:
The difference between a high seas FONOP and an innocent passage FONOP is not an academic distinction. In the former case, a military vessel would have to specifically operate in a manner not consistent with Article 19 of UNCLOS, which delineates a range of activities that are lawfully permitted for foreign vessels exercising innocent passage within the rightful territorial sea of a coastal state.

An explicit high seas assertion could include the vessel undertaking a range of activities, ranging from overt military actions like a live-fire exercise to the activation of fire control radars or even the launching of ship-based aircraft, helicopters, or drones.
Should it turn out that the USS John S. McCain conducted an innocent passage FONOP, it would likely reinforce China's legal position. The Chinese government has so far not publicly commented on the purported this FONOP of the Trump presidency.