Trump's Afghanistan Policy: The Good, the Bad, and the Ugly
U.S. President Donald J. Trump's plan for Afghanistan leaves several open questions.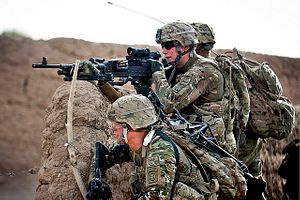 U.S. President Donald J. Trump's speech from the Fort Myer military base outlining a new path forward in Afghanistan has been well received in Kabul and New Delhi. At the outset, this new path departs from the one laid out by Trump's predecessor, Barack Obama, in 2009 that affixed timelines for U.S. troop withdrawal from what was then a near decade-long conflict in Afghanistan.
Trump's speech also departs from Obama's in that it views Pakistan very much as a central contributing factor to the quagmire in Afghanistan, while the previous formulation viewed Pakistan as having convergent objectives with the U.S. in Afghanistan and drew equivalence between Afghanistan and Pakistan as fellow victims of terrorism.
In retrospect, the Obama administration erred in setting artificial timelines for U.S. troop withdrawal from Afghanistan. These timelines conveyed to the Taliban and its sponsors in Pakistan a message of despondency and the withering of American will to stay to course.  Emboldened, they embarked on a campaign to attenuate the government of Afghanistan's credibility and authority by targeting nascent institutions of the state as well as U.S. forces in the region. It would take another six years for the Obama administration to officially abandon this timeline for withdrawal.
Trump's speech this week also attempted to correct the prevailing official American narrative on Pakistan, a country that has for 16 years benefited from U.S. financial largesse while continuing to undermine U.S. interests in the region. Trump's articulation that Pakistan was part of the problem rather than the solution isn't going down well in Rawalpindi. But Pakistan's brazen duplicity isn't something that the U.S. and Afghanistan can continue to overlook.
Trump's admonition aside, it is unlikely that Pakistan's army will give up its reliance on terrorist groups to further its regional objectives in Afghanistan and India. Sixteen years after the U.S. threatened to "bomb [Pakistan] back to the stone age," terror infrastructure continues to not only survive, but thrive in Pakistan under the patronage of the country's army and its powerful intelligence service, the ISI.
The Haqqani Network, responsible for hundreds of attacks on Afghan and U.S. troops and once described by former Chairman of the Joint Chiefs of Staff Mike Mullen as a "veritable arm of the ISI," has now been integrated into the Taliban leadership structure.  Yet another terrorist group, the Jamaat ud-Dawa, which is proscribed by the UN, the U.S. and indeed Pakistan itself, just floated a political party this past month and is fielding a candidate to contest a parliamentary seat vacated by former Pakistani PM Nawaz Sharif following his disqualification.
This, in effect, is a crucial point that Trump's speech leaves unanswered: in the likelihood that Pakistan refuses to play ball, what options do U.S. policymakers have (and which, among them, is the Trump administration willing to exercise) to impose costs on Pakistan?  And if Pakistan were to return on the tried and tested policy of shutting down the U.S.'s vital lines of communication in Pakistan, what are the U.S.'s fallback options?
Trump's call welcoming a larger role for India in Afghanistan will likely give Pakistan's leaders a lot of heartburn. To be sure, it is vital to India's national interests to support the government in Kabul and to continue to grow its relations with Afghanistan. But India's national security managers will need to factor in the possibility that the country's growing footprint in Afghanistan, coupled with the U.S.'s explicit endorsement of its expanding role, will draw retributive counteraction by Pakistan against Indian interests in Afghanistan.
While many in India will welcome Trump's speech, the bizarre statement that India benefits from "billions of dollars" of trade with the U.S. and thus ought to be doing more in Afghanistan will annoy New Delhi. For one, India is already the fifth-largest aid provider to Afghanistan.  Indian contractors have built dams, highways and even delivered a new parliament building to Afghanistan.
Second, on the security front, India has trained Afghan National Army personnel as well as the country's national police.  More recently, India has delivered Mi-25 attack helicopters to Afghanistan's air force.  Indeed, Trump's formulation glosses over the fact that both the Bush and Obama administrations had encouraged India to lay low on security cooperation with Afghanistan for fear of annoying Pakistan. This approach eventually changed when the Obama administration came to the realization that Pakistan's India psychosis could not be meaningfully assuaged.
Of course, many in the U.S. will understand Trump's statements on India as appealing to his own political base. Indeed, the formulation is in keeping with a theme of the 2016 Trump campaign: that U.S. friends and allies ought to be doing more of the heavy lifting required on issues of common interest. But if Trump has his political base to appeal to, so do India's political leaders, and it is not inconceivable that either the Government of India itself or the ruling Bharatiya Janata Party (BJP) might seek to correct this narrative.
Trump's speech was also light on a number of other accounts: how many troops is his administration committing to augment current levels in Afghanistan?  What are the goals and outcomes being sought beyond the rhetoric of "we will fight to win"?  Trump's speech lays out an encouraging vision, but whether this vision can be translated into reality remains in question, given the many preoccupations of this administration on the domestic front.
All things considered, for Kabul and New Delhi, the signals are a positive, but plans to advance economic and strategic ties between India and Afghanistan should continue regardless of how the Trump administration's policy towards Afghanistan pans out.