US Navy Commissions New Nuclear Attack Submarine
The U.S. Navy's newest Virginia-class submarine was commissioned on October 7.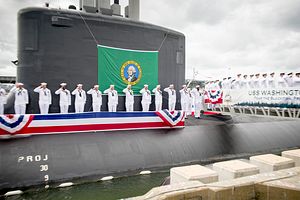 The U.S. Navy commissioned the Virginia-class nuclear attack submarine USS Washington (SSN-787), the 14th sub of the Virginia-class sub, on October 7 during a ceremony at Naval Station Norfolk, the service said in a statement.
The Washington was delivered to the U.S. Navy in May following the successful completion of sea trials off the coast of Virginia in early April.  The submarine is the fourth of eight Virginia-class Block III fast-attack submarines.  The Virginia-class is being built in block increments, with Block I and Block II boats already delivered to the U.S. Navy.
Block III Virginia-class attack subs are fitted with the Virginia Payload Modules (VPM) – larger tubes that increase the ship's missile payload designed to lower costs (See: "US Subs Getting Fire Power Boost"). As I explained previously:
While the first 10 Block I and Block II Virginia-class submarines feature 12 individual 21-inch diameter vertical launch tubes able to fire Tomahawk Land Attack Missiles (TLAMS), "the Block III submarines are built with two-larger 87-inch diameter tubes able to house six TLAMS each," according to the U.S. Navy website. The new 87-inch tubes have been designed to accommodate future missile systems in addition to the Tomahawk.

In addition, Virginia-class Block III boats are equipped with four torpedo tubes for MK48 torpedoes. Furthermore, next to a redesigned bow, Block III Virginia-class boats also contain "a water-backed Large Aperture Bow (LAB) sonar array that replaces the air-backed sonar sphere found in the first 10 Virginias." This, in combination with the its so-called fly-by-wire capability, enables the boat to perform important intelligence and surveillance missions.
According to the U.S. Navy, Virginia-class boats are multi-mission platforms  designed "to fulfill the seven core competencies of the U.S. Navy's submarine force: anti-submarine warfare; anti-surface warfare; delivery of special operations forces; strike warfare; irregular warfare; intelligence, surveillance and reconnaissance; and mine warfare," as I reported elsewhere.
"Their inherent stealth, endurance, mobility, and firepower directly enable them to support five of the six maritime strategy core capabilities: sea control, power projection, forward presence, maritime security and deterrence," the U.S. Navy notes in the press release.  The sub is capable of reaching underwater speeds of up to 25 knots and can operate for 30 years without refueling.
Construction of the USS Washington began in September 2011.  The sub was christened during a ceremony in March 2016. The U.S. Navy is expected to commission a total of 51 Virginia-class attack submarines in the next two decades. In September, the U.S. Navy accepted delivery of the 15th Virginia-class sub, the USS Colorado (SSN-788).