Can India 'Connect' With Central Asia?
India has yet to translate its aspirations in Central Asia into reality.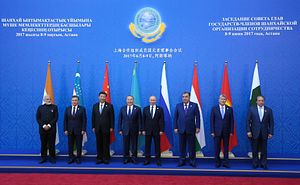 The conceptualization of regions allows countries to integrate the various available geographical models into their own strategies. A new region entered the world scenario after the disintegration of the Soviet Union in 1991: Central Asia as a distinguished region was born. Other countries, including India, underwent a significant shift in geopolitical thinking to factor in the new region. In light of changing geopolitical circumstances, India developed a pragmatic approach toward the newly emerged Central Asia by referring to it as "our near abroad" and developing bilateral relations with the five new republics — Kazakhstan, Kyrgyzstan, Tajikistan, Turkmenistan, and Uzbekistan. As India looked to project its influence beyond South Asia, the concept of an "extended neighborhood" was introduced in Indian policy circles.
As External Affairs Minister Sushma Swaraj prepares to represent India at the Shanghai Cooperation Organization (SCO) Heads of Government Summit in Russia from November 30 to December 1, it is important to understand how successful India has been in its strategy of northward political expansion.
After attending the SCO summit as an observer country for over a decade, India, along with Pakistan, assumed full membership in June 2017. After the inclusion of India and Pakistan, the total population of SCO countries grew to almost 3.5 billion. Following India's acceptance as a full member of the grouping in 2017, academia buzzed with debates on the rising geopolitical competition between the Asian giants and how India could emerge as a challenger to China in Central Asia. A sense of optimism emerged, with many seeing India's entry into the Chinese-dominated group as a major milestone in regional geopolitics. While India's interest in Central Asia is visible, its relations with the region are marginal when compared to that of China and Russia. Despite efforts being made by India, questions such as what India can offer to Central Asia and what India symbolizes for Central Asia remain a challenge for India-Central Asia relations.
The Connect Central Asia Policy
India's growing national strength, in terms of both economy and military, prompted India to intensify its engagement beyond South Asia. The broadening of India's security parameters allowed India to look to the Central Asian region for its growing energy needs. It was in 2002 that Prime Minister Atal Bihari Vajpayee spoke about the need to build a new silk route of friendship and cooperation between India and Central Asia.
Security considerations also form an important aspect of the India-Central Asia relationship. The two regions share the common agenda of maintaining stability in Afghanistan. India, through various efforts, is trying to consolidate its geopolitical and geo-economic presence in the region. However, several scholars feel that while India's assertion to the region has been consistent, India's policies regarding its strategic neighborhood have not been robust.
In economic terms, the quantity of trade that India shares with Central Asia is miniscule when compared to that of China. While there has been an increase in trade over the past decade, India's imports from Central Asia averaged only about 1 percent of the region's total exports, while India's share in the countries' imports is less than 1.5 percent. China, on the other hand, has been expanding its influence and has overtaken Russia as Central Asia's largest trading partner.
The fear of losing the region to China led India to formulate a policy to reconnect with the region. It is in this context that India's Minister of State for External Affairs E. Ahmed unveiled the "Connect Central Asia Policy" (CCAP) at the first meeting of the India-Central Asia Dialogue, held in June 2012 in Kyrgyzstan. The aim of the new policy was to expand India's relations with Central Asia beyond the traditional spheres of economics and energy. India has been seeking to integrate economics with geopolitics by focusing on strengthening strategic and security cooperation between India and Central Asia with a strong emphasis on military training.
Earlier in November, the Indian and Kazakh armies engaged in a joint exercise to strengthen bilateral army-army ties and exchange information and skills. Afghanistan remains an important aspect of India-Central Asia security cooperation. In December 2016, India and Tajikistan signed an agreement on terror financing and money laundering. Furthermore, Prime Minister Narendra Modi has been in talks with the Tajik government for the lease of a former Soviet airbase. With the first shipment of wheat to Afghanistan from India through the Chabahar port, there has been progress on the Chabahar project, considered an important facilitator of trade to and from Central Asia through Afghanistan.
During the last few decades, Central Asian countries and India have established strong relations in various fields: textiles, metallurgy, chemicals, mining, hydrocarbon, mineral processing, construction, and industrial production. Central Asia is one of the largest beneficiaries of Indian Technical and Economic Cooperation (ITEC) program. India has also been assisting Central Asian countries in other sectors including information technology, food processing, and courses in English.
While India has been making significant gains in exploring and investing in the region, there continue to be issues relating to the transportation of oil to India due to lack of regional connectivity. While Pakistan's Prime Minister Shahid Abbasi recently said that the transnational gas pipeline, Turkmenistan-Afghanistan-Pakistan-India (TAPI), critical for connecting India with the Central Asian region, would start operation in five years, there continue to be problems of security and other issues attached to it. Analysts hope that the problems related to the project will be addressed in the meeting of the steering committee to be held in December, in India.
Challenges Remain
Unlike India, China shares long borders with three Central Asian states: Kazakhstan, Kyrgyzstan, and Tajikistan. China, due to its growing military, economic, and defense cooperation with Central Asia, has become a threat to India's ambitions in the region. While China has advanced in its efforts to build its own new silk road, India is still struggling to capitalize on its potential role in Central Asia. It lags behind both Russia and China in terms of trade and security cooperation. India's inclusion in the SCO was seen as positive news for India, which hopes to have a greater say in pushing for effective action in combating terrorism and on issues relating to security. However, some analysts remain skeptical of the development on the grounds that India might find itself isolated in a perceived strategic triangle of China-Pakistan-Russia, who might have a common position on certain issues.
It is also not yet clear what kind of role India wants to play in Central Asia and if it is willing to invest the considerable amounts of economic, military, and diplomatic capital required to turn the Connect Central Asia policy into practice. While India has been endeavoring to increase its footprint in Central Asia by exploiting the region's energy resources and developing a mutually beneficial security and economic relationship, it is still behind China in its efforts. India has the capacity to play a constructive role in Central Asia. But its role is further restricted by the involvement of major powers in the region including the United States, China, and Russia. While a new opportunity has opened up for India to cooperate with either the United States or Russia, India will have to be careful about its approach to the region.
India has yet to translate its aspirations in Central Asia into reality. For the Connect Central Asia policy to succeed, it is important that it is realized in practice and not just present on paper. If India manages do that, India's profile will rise not just in Central Asia but also in the international system. Once implemented properly, the Connect Central Asia policy could be a game changer for India.
Neha Dwivedi is a postgraduate research scholar at the Department of Geopolitics and International Relations, Manipal University.