Trump's Trip to China: Poor Optics and Missed Opportunities
Trump's visit merely papered over the cracks of the huge issues dividing the two superpowers.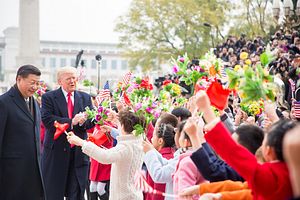 U.S. President Donald Trump's presidential visit to China contained few surprises and multiple missed opportunities.
Beijing successfully stage managed the visit, which was primarily designed to leave observers with the appearance that despite the broader challenges in the U.S.-China agenda, the personal rapport between Trump and Chinese President Xi Jinping was exceptionally strong.
In reality, a range of difficult issues continue to keep the United States and China and their professed strategic priorities in Asia and the world apart, along with a divergence in their visions for global order in the 21st century.
Watching Trump's visit, however, the impression portrayed was that these differences appeared to amount to little more than trifling details.
From a leisurely tour of the Forbidden City to an elegant dinner on the first night, Xi succeeded in winning Trump over.
Trump too, despite his initial hesitance on core Chinese interests like the United States' support for the "One-China policy on Taiwan, has come around to regarding Xi as a close friend (Xi, of course, has little reason to sincerely reciprocate and may find that keeping up appearances with Trump and playing along is more than sufficient to secure Chinese interests).
"I enjoyed every minute of it," Trump said of his dinner on the first night. "You are a very special man," he also reportedly told Xi. While a close personal rapport can aid pragmatic and interest driven diplomacy, Trump gave little indication that this was the case in China.
Consider trade, for instance. During his campaign for the U.S. presidency, Trump donned the tone of an ardent economic nationalist, lambasting China repeatedly. Although prominent economic nationalists like Steve Bannon have left his administration, others, like trade adviser Peter Navarro, remain.
Trump's performance in Beijing, however, put that wing of his White House team out of the picture. Remarkably, during his remarks at the Great Hall of the People in Beijing on Thursday, Trump blamed his predecessors for the U.S. trade deficit with China, which he did, however, underscore as a major source of concern for his administration.
"I don't blame China," said Trump. "After all, who can blame a country for being able to take advantage of another country for the benefit of its citizens?" He punctuated this by noting that he gave China "great credit" for its economic success.
On security matters, the visit was largely a lost opportunity for Trump. Even on North Korea – the Trump administration's overriding security concern in Asia – Trump made little headway with Beijing. On Thursday, he called on China to "work on it very hard" and thanked Xi "for his recent efforts to restrict trade".
Granted, it is true that there is little Trump could publicly say in Beijing that would get China to revise its fundamental interests regarding outcomes on the Korean peninsula, but it is far from clear that positive reinforcement for easily reversible bouts of sanctions enforcement by Beijing will keep the administration's policy of "maximum pressure" on the right trajectory.
Beyond North Korea, the South China Sea and the future of the liberal, rules-based order in Asia did not feature prominently in Trump's words. The burgeoning concept of a "free and open Indo-Pacific" did receive brief mention, but Trump was not explicit about U.S. concerns regarding China's "Belt and Road" international trade initiative.
U.S. Secretary of State Rex Tillerson did note there was a "frank" exchange on the South China Sea, but it is entirely unclear if discussions extended beyond the old tick-tock of the United States insisting that it supports freedom of navigation and overflight and China insisting on its absolute sovereignty over disputed features in the region.
For regional states looking for reassurance that the United States continues to stand for the post-second world war order that it built – even in the age of "America First"– this will be disappointing. This administration, fixed on North Korea and trade deficits, has failed to demonstrate that the United States can walk-and-chew-gum in Asia, where various long-term and diffuse challenges persist.
Trump's speech on a "free and open Indo-Pacific" in Da Nang in Vietnam will be limited in its effectiveness if the president isn't seen as willing to stare down Xi in Beijing as China continues the implementation of its parallel regional vision in the form of the "Belt and Road" initiative. Unfortunately, this too was a missed opportunity.
Despite the warm personal relationship with Xi and a non-confrontational visit to Beijing, it is far from clear that U.S.-China relations are headed for calm waters. While the U.S. president may see Xi as a friend and role model of sorts, U.S. interests remain constant and work continues at lower levels to reinvigorate U.S. leadership in Asia.
On trade too, despite Trump's eagerness to avoid blaming China, the hard work of eliciting results will continue to yield friction. Even the eye-popping $253 billion in poorly clarified, non-binding deals announced during Trump's trip, while the source of impressive headlines, will prove disappointing in implementation.
For U.S.-China ties, this visit may just be the illusion of calm before the coming storm.
This article first appeared at the South China Morning Post. It is republished here with kind permission.