Why Has Australia Shifted Back to the Quad?
Among other things, the Quad gives Australia an opportunity to expand on its underdeveloped relationship with India.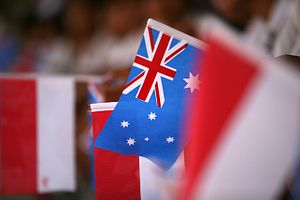 With a shifting balance of power in the Indo-Pacific Australia has begun to more seriously contemplate how it can best maintain the conditions that have served its interests well. In recent weeks this has involved Australia's re-engagement with the group of like-minded regional states: the United States, Japan, and India. The grouping, colloquially known as "the Quad," held a significant meeting of senior officials on the sidelines of the ASEAN summit in Manila last week.
The Quad was previously seen as less of a formal alliance, and more a strategic partnership with a desire to preserve common interests in the Indo-Pacific region, including a desire to balance China's rise. Yet even with careful treading to try and avoid Chinese suspicions, the Australian government under then-Prime Minister Kevin Rudd found the grouping to be in too much conflict with Australia's economic relationship with China, and decided to withdraw Australia from further formal discussion in 2008. However, it now seems Australia has now decided to put aside its previous reluctance in order to take a more assertive stance.
The Quad's origin story is centred on the 2004 Boxing Day Tsunami, which caused significant damage and displacement to large areas of South and Southeast Asia. In response, the four states — Australia, India, Japan, and the United States — were able to coordinate their military hardware to provide an efficient provision of humanitarian relief to the affected regions. This narrative plays well with an attempt to create a "values-based" partnership of liberal-democratic states with both the capability and desire to administer global public goods.
China's recent assertive behavior in the South China Sea has created concern within the Indo-Pacific that the a shifting dynamic in the region could threaten the established order, and maintenance of the status quo should be promoted more decisively. As a continent that creates part of the divide between the Indian and Pacific oceans, Australia is inherently invested in the security of the region. Reflecting this reality, Australia's two primary naval bases are in Sydney on its Pacific coast and Perth on its Indian Ocean coast, demonstrating its desire to provide substantial operations in both oceans.
Despite Australia's status as an Indian Ocean power, the country has not participated in the annual trilateral Malabar naval exercise involving India, the United States and Japan since 2007. However, just as Japan became a permanent participant in the exercise in 2015, Troy Lee-Brown from the University of Western Australia see the reemergence of dialogue between the four states as eventually leading to this occurrence, telling The Diplomat: "The quadrilateral dialogue will likely expand its remit to again include Australia in the Malabar Exercise in the coming years thus improving naval interoperability between the four maritime nations." And he sees that this has the potential to move the partnership beyond naval cooperation to "provide an alternative Indo-Pacific connectivity and infrastructure initiative to China's Belt and Road Initiative."
Whereas Australia had previously been concerned about its trading relationship with China being affected by the a more forceful engagement with a U.S.-India-Japan strategic grouping, Lee-Brown sees Australia's conundrum as no longer unique in the world. "Chinese authoritarian and illiberal governance mixed with being a top three trading partner with most of the countries on the planet, means that many liberal states face a contradiction between their values and some aspects of their relationship with China," he says.
Lee-Brown suggests that recognition of this reality should lead to Australia finding a more confident posture in relation to China, and recognizing its need to further branch out economically. "One needs to question whether Australia's withdrawal from the first iteration of the Quad in 2008 foreshadowed any change in Sino behavior," he points out. "Australia has every right to independently formulate a foreign policy that best addresses its interests. If it is put under duress whilst trying to maintain its strategic autonomy by a prominent trade partner, then perhaps Australia needs to question whether it has sufficient trade diversification."
This is a posture that may be developing, as Ankit Panda has written for The Diplomat in analyzing the various statements of the four states in regards to the meeting at the ASEAN summit, Australia, along with the United States, seemed to have fewer concerns for Chinese sensitivities than Japan and India. This is potentially an indication that Australia may be moving beyond the caution of the Rudd government's approach to China toward becoming more assertive in defense of its values — and seeing these values as essential to regional security.
While the reemergence of the Quad looks set to deepen the strategic ties Australia has begun developing with India, it remains to be seen whether Australia has the capability to engage with India on an economic scale to relieve the pressures arising from an over-reliance on China. As I have written previously, Australia seems to be hoping to replicate the "resources boom" it experienced through China's growth with India. Yet simply digging things up and shipping them to India remains an unsophisticated approach to the country, lacking an ability to understand India beyond its large population. Unfortunately, Minister for Resources Matthew Canavan recently confirmed this narrow perspective when he wrote that Australia should add a fourth "C" — coal — to its current "Commonwealth, cricket, and curry" relationship with India.
If Australia can move beyond the gimmicky alliteration to include defense as a significant area of engagement, it may have have an opportunity to develop a more intimate relationship with India. With already close bilateral relationships with the United States and Japan, the Quad provides Australia with an opportunity to expand on its underdeveloped relationship with India, as well as to help provide the regional security infrastructure to counter any revisionist activity.