Afghanistan Plays Turkey's Game, Arrests Teachers Reportedly Linked to Gulen
Kabul seems willing to pay the price to play with Ankara, that price being a few Turkish teachers.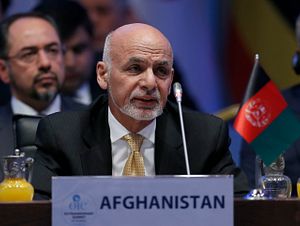 On December 12, while Afghan President Ashraf Ghani was on his way to Istanbul, authorities back in Afghanistan moved to arrest four teachers and raid a school reportedly linked to Fethullah Gulen, whom the Turkish government holds responsible for an attempted coup in 2016.
Security forces in Afghanistan reportedly detained four teachers — one Afghan and three Turks — while they were enroute to the girls school where they taught. Intelligence officers also reportedly searched the school looking for a fifth teacher. The school is operated by Afghan Turk CAG Educational NGO (ATCE), which has run several schools in Afghanistan since 1995. The organization says it is independent; Ankara appears to believe it is part of Gulen's network.
In March, Afghan authorities issued an order — on Ankara's request — that the schools operated by ATCE be transferred to Maarif Vakfı, a Turkish educational and charitable foundation. Acting Afghan Education Minister Shafiq Samim said then that Turkish teachers would not be expelled and the transition of staff would be "gradual."
At the time Reuters reported that Numan Erdogan (spelled Human in a later article and, I assume, of no relation to the Turkish president), the chairman of ATCE, said he had not received notification from the Afghan government and pushed back on the idea that his organization was linked to developments in Turkey. "We have nothing to do with developments in Turkey, none of our teachers is implicated, and any allegations against us about that are baseless," he said.
Erdogan, the ATCE chairman, said that officers from Afghanistan's intelligence service, the National Directorate of Security (NDS), picked up the four teachers in the morning of December 12 as they were on their way, in two separate cars, to the school.
Gulen, a U.S.-based cleric and founder of a transnational Islamic religious and social movement (which has no name but is often referred to as Hizmet), has been blamed by the Turkish government for the July 2016 attempted coup. Once an ally of President Recep Tayyip Erdogan, Gulen has fallen quite far from favor.
Prior to the July 2016 failed coup, Turkish authorities had already begun referring to Gulen's movement as the "Gülenist Terror Organisation" or "FETÖ." According to the BBC, it was formally declared a terrorist organization in May 2016 but pressure on the group and members (as well as their business networks, publishing houses, and so on) was escalating throughout 2015.
The Gulen movement has operated an estimated 2,000 schools around the world, many since the 1990s. This network of schools and their many, many graduates are now the target of the Turkish government's crackdown. This has become a serious conundrum in Central and South Asia where Turkish schools, founded by Gulen-linked organizations in the days when Gulen's movement was viewed by the Turkish government as a key soft power tool, are a vital stop-gap measure in otherwise weak national education structures.
As we've followed, pressure from Ankara has been heavy across the Central and South Asian region, though not all states have completely capitulated.
In November 2016, before a visit by Erdogan to Pakistan, Ankara asked Islamabad to expel Turkish staff from the PakTurk International Schools and Colleges network of schools in the country. Pakistan did as requested.
In Central Asia, some regional governments were wary of the Gulen movement before Erdogan was. Uzbekistan closed the Gulen schools in the country in 2000. Turkmenistan closed or nationalized most of its Gulen schools in 2011 as the bonds between Gulen and Erdogan becan snapping. In 2015, Tajikistan shuttered seven Gulen charter schools.
Kazakhstan and Kyrgyzstan have held out, somewhat, on the outright closing of Gulen-linked educational institutions.
After meeting with Erdogan in August 2016, Kazakh President Nursultan Nazarbayev pledged to expel Turkish teachers linked to Gulen. A month later, Nazarbayev declared that the Turkish-Kazakh schools belonged to Kazakhstan and thus Astana would not expel teachers unless they'd been convicted of a crime. Eventually, 11 Turkish teachers were extradited but the schools continued to operate. But as RFE/RL reported this October, Turkish teachers in Kazakhstan are still facing trouble, mostly of an administrative nature. Some have had their visa extension requests denied and others, who have had their passports expire, are not able to get new passports from Turkish authorities.
Kyrgyzstan has remained the most unyielding to Turkish demands, though suspicion has hung over the country's key Gulen-linked schools. Then-President Almazbek Atambayev responded to Turkish demands and warnings that the Gulen schools in the country were a risk in typical style: "If Turkey is so smart, why did it miss a coup?" he said in August 2016. "That's absurd — to say that coup threatens Kyrgyzstan. Don't bully us! If there is information about possible problems, we will check it."
Thus, the arrest of the four teachers in Afghanistan this week fits into a well-established pattern. Turkey is an important partner for Afghanistan, and Kabul seems willing to pay the price to play with Ankara.
In Turkey, Ghani attended an emergency meeting of the Organization of Islamic Cooperation (OIC) on Jerusalem (which the United States recently recognized as Israel's capital, setting off protests across the Muslim world). Ghani also met with Erdogan and other Turkish officials.
Afghan officials have been dodgy about the arrests and the raid on the school. Tolonews reported, paradoxically, that the acting Minister of Education Mohammad Ibrahim Shinwari said the raid was "not carried out on the orders of the government leadership" (a quote from Tolonews' summary). Tolonews also reported that while the NDS had not commented, a document the news organization viewed showed that a Turkish court had ordered the arrests. If this is the case, it mirrors what Kazakhstan did — extraditing a handful of teachers specifically requested by Turkey — but leaving the schools more or less operational.