Kazakhstan's Border Spat With Kyrgyzstan: More Than Just a Speed Bump
Does Nazarbayev have a plan?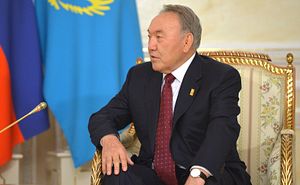 To hear Kazakh officials tell it, Kazakhstan's border spat with neighboring Kyrgyzstan was a mere speed bump on the road to achieving Astana's regional economic ambitions. The official line is that Kazakhstan was concerned about the flow of contraband goods from China and the standards of Kyrgyzstan's veterinary and sanitary controls. With President Nursultan Nazarbayev and his Kyrgyz counterpart Sooronbai Jeenbekov shaking hands over the issue in Minsk last month, the momentary crisis is apparently over.
As is usually the case in Central Asia, the official line only has a tenuous link to reality. Veterinary concerns notwithstanding, the dispute was in fact the end result of rising tensions (complete with name calling) stemming from Nazarbayev's meeting with Kyrgyz opposition candidate Omurbek Babanov before Kyrgyz presidential elections in October. Kyrgyzstan's then-president and his anointed successor took this as a sign of Kazakh interference in their elections, sparking a diplomatic standoff and cripplingly long lines at the border.
Even if it has been resolved, skirmishes like this one cast a pall over Kazakhstan's vision of itself as the economic heart of Eurasia. The regional integration promised by the Eurasian Economic Union (EEU) – Nazarbayev's idea in the first place – is discredited by the perception that relationships between its Central Asian members can turn on a dime.
There is ample evidence that Nazarbayev's autocratic government is an impediment to growth. The Unaoil scandal, exposed by the Huffington Post last year, showed the extent of the rot. Hundreds of international corporations, such as Samsung, Rolls-Royce and Halliburton, used the secretive Monaco-based company to funnel millions to Kazakhstan's corrupt and well-connected elite to secure lucrative contracts. With Astana still reeling from the effects of that exposé, closing borders over another head of state referring to the Kazakh leader as an "aged dictator" should raise eyebrows even with the most battle-tested investors.
Since not many Western investors dare venture in Kazakhstan, Nazarbayev and his top officials see Beijing's One Belt, One Road (OBOR) as a catapult to further economic development and diversification. They have good reason: in investment terms alone, the Kazakh economy is already benefiting substantially from Beijing's gambit to rebuild the ancient Silk Road for its modern needs. In December 2014, China and Kazakhstan signed $14 billion worth of cooperation agreements. This past June, Xi Jinping's state visit to China's western neighbor brought with it over $8 billion in additional deals.
The regional economic impact of China's initiatives should far exceed that of the Russian-led EEU, which several Kazakhstan's fellow Central Asian republics flat-out refuse to join. Chinese firms may take a surprisingly bold approach when it comes to high-risk or poorly-regulated investment destinations, but it is difficult to imagine even Beijing tolerating interruptions to its new Silk Road because the stops along the way decide to squabble among themselves.
Nazarbayev, of course, has spent much of his post-Soviet political career balancing relationships to maintain Kazakhstan's independence. As such, China and Russia are not the only two economic partners available. Largely to counterbalance China, major Japanese firms such as Nippon Express continue to collaborate with their Kazakh counterparts on ambitious transport and infrastructure deals. Beyond Beijing, Moscow, and Tokyo, however, geopolitical motivations have not necessarily been strong enough to outweigh market risks. Other global (specifically Western) investors have remained coy when it comes to helping Kazakhstan expand and reform its heavily state-controlled, hydrocarbon-dependent economy.
Between 2016 and 2020, for example, Kazakh economic planners aim to sell off 65 of the largest state-controlled companies in the oil and gas, transportation, and nuclear sectors. At present, however, taking over stakes in these enterprises comes with drawbacks. These include an enduring lack of transparency over the value of the companies on offer and the privatization process itself. Even when outside private companies are persuaded to enter the Kazakh market, one step forward can still mean two steps back. Just this past October, U.S.-based AES Corp handed two hydroelectric plants it had managed since 1997 back to the government amid a long running dispute that ultimately overshadowed two decades of involvement and investment in the Kazakh market.
Furthermore, most Kazakh industries remain dominated by oligarchs and well-connected elites. Corruption and compliance remain serious concerns, even with various rounds of market reforms. Investors and global financial institutions still feel Kazakhstan needs to get its own house in order – and deepen economic integration with its neighbors – to become a viable investment destination. 
Examples of misguided state priorities still abound. This year's Expo 2017 is only the most recent (though one of the expensive) examples of Kazakh elites bringing glamorous whims to life rather than focusing state resources on the staider side of economic development. The Expo, held in the remote capital city of Astana, cost the country $3-5 billion – but was supposed to serve as a major nation-branding exercise for an emerging global economy.
Instead, an event that was initially estimated to draw five million visitors drew only 10,000 people on its first day and sold 670,000 tickets total. To mask the lack of foreign visitors, Kazakhs were rumored to have been forced to buy tickets to what can only be described as a rudderless vanity project.
The good news is that, while undoubtedly difficult, serious progress on reform is hardly impossible. Though there are fits and starts, Kazakhstan's drive towards privatization is gradually moving in the right direction. President Nazarbayev – who has been in power for more than a quarter of a century – is also taking overdue steps to devolve some of the powers of his office onto parliament.
This may touch upon delicate political questions surrounding Kazakhstan's post-Nazarbayev future, but empowering the national legislature is also a time-honored route to improving governance. Could Kazakhstan even follow Kyrgyzstan down the path of democratic elections and politics? If Nazarbayev does not block the road, it's a tantalizing possibility – and one that would make at least some global investors far more amenable to the country.
Andrew Witthoeft is a EU affairs adviser for an international consulting firm.