Nazarbayev Rants Against Offshore Holdings
The Kazakh president complained on national television of companies squirreling their money away abroad.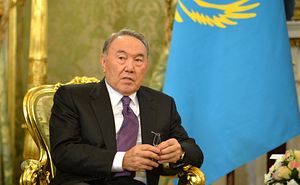 On December 6, during an appearance on a nationally broadcasted teleconference detailing Kazakhstan's industrialization, President Nursultan Nazarbayev threatened to fire his cabinet ministers if they failed in forcing companies to bring back to Kazakhstan funds held offshore.
According to Reuters, Nazarbayev didn't cite a source when he instructed Prime Minister Bakytzhan Sagintayev to look into why state-controlled companies had tripped their foreign cash holding from $2 to $6 billion in the first six months of 2017.
"If you fail to do this, I warn you in front of the whole Kazakhstan, I will use other ways to return that money to Kazakhstan, but you will not be here any more," he said.
Going further, Nazarbayev stated that 18 companies were keeping more than $12 billion stashed abroad.
"That money could help our economy… The state provided you with the conditions to make that money and you are hiding that money of Kazakhstan somewhere else? Enough is enough!"
He also took aim, it appeared, at the globetrotting Kazakh elite: "Enough of toying around, look at them, carried away with their games, keeping their money abroad, buying yachts and mansions in multiple countries."
Nazarbayev warned those holding offshore accounts that they were going to lose their money. "[D]on't you see that? In times of sanctions, no one will help you out. Bring your money back to Kazakhstan and keep them here. What guarantee do you need? Laws or orders? I'll give you them. If you won't do that, we'll do that for you."
Nazarbayev named a handful of companies: "Tengizchevroil has $4.5 billion abroad. But Kazakhstan owns a significant share in the company, so we have a power there. KazMunayGaz has $3 billion abroad, KazMunayGaz Exploration Production — $2 billion, Asian gas pipeline — more than $1 billion, the Beyneu-Shymkent gas pipeline — $100 million and so on."
There are a few oddities in Nazarbayev's raging against offshore holdings.
First, while he did not name all 18 companies, most of those that were named are ventures controlled by the state. Nazarbayev, who has led Kazakhstan since before its independence in 1991, has all along had an outsized role in how policy is made in the country and over the very same businessmen who have squirreled away money overseas.
One notable exception was Tengizchevroil, which was formed between the Kazakh government and Chevron in 1993 to explore and exploit the the Tengiz oil fields in the northern Caspian. It is currently a joint venture in which the Kazakh state oil company — KazMunayGaz — only holds 20 percent. Two U.S. companies — Chevron and ExxonMobil — hold 50 and 25 percent respectively with the remaining 5 percent held by LukArco, a subsidiary of Lukoil, a Russian company.
Second, there's certainly a bit of the kettle calling the pot black in this — i.e. hypocrisy.
The Panama Papers leak of 2016 featured an appearance by Nazarbayev's grandson, Nurali Aliyev. Aliyev reportedly worked through a series of shell companies to purchase a yacht in 2008, named the Nomad.  The more recent Paradise Papers named several Kazakhs, as RFE/RL reports, including Defense Minister Beibit Atamqulov and the chairman of KazMunayGaz, Sauat Mynbaev, as owners of companies registered offshore.
Astana has engaged in an anti-corruption drive over the past few years, including the arrests of 21 former officials in 2015, but it has rarely touched the elite, beyond those who have irritated Nazarbayev politically first.
It's not eminently clear why Nazarbayev is just now railing against offshore holdings. Maybe he just wants to know which government official bought that sweet, 13,000-square foot, high-security, set of apartments in Paris for $75.8 million earlier this year from a Russian investor.