Netanyahu Says Israel-India Anti-Tank Guided Missile Deal Remains on Track
India will still buy Israeli Spike ATGMs, according to the Israeli prime minister.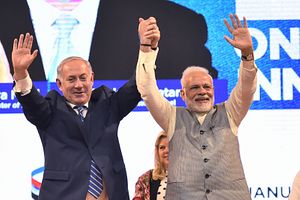 Last week, I commented on the Indian government's decision to cancel a $500 million deal with Israel's Rafael Advanced Defense Systems Ltd. for the procurement of Spike anti-tank guided missiles (ATGMs). The Modi government's decision came just weeks before Israeli Prime Minister Benjamin Netanyahu would become the second Israeli prime minister in fifteen years to visit India.
Last week, during his five-day visit to India, Netanyahu indicated that the decision the cancel the ATGM deal may have been reversed. According to Reuters, Netanyahu said "he had been informed by the Indian government that it had decided to put a major anti-tank missile deal back on track" on Wednesday last week.
"Following talks I have held with my friend, Indian Prime Minister Narendra Modi, the Indian government has informed us that it is putting the Spike deal back on track. This is very important and there will be many more deals," Netanyahu said last week. The Indian government has yet to publicly confirm or deny Netanyahu's statement. Echoing Netanyahu, Israeli National Security Advisor Meir Ben-Shabbat was quoted in the Israeli media as saying that the deal was back on as well.
The $500 million deal was canceled largely due to indigenization concerns, which have been growing in India, which is the world's largest defense importer. Though India and Israel have had close defense commercial ties for years, the Indian government saw an opportunity to develop an indigenous ATGM to compete with Spike.
Complicating matters—and potentially leading to the revival of the Spike purchase—the Indian Army expressed concerns that waiting for India's Defense Research and Development Organization (DRDO) to come up with a suitable home-made ATGM would leave it with an important capability shortfall.
If the Spike deal is "back on track," as Netanyahu says, then it's likely the Indian government will be pursuing it along the original terms. It is possible, however, that India may choose to conclude a government-to-government deal with Israel for some Spike ATGMs to shore up the Indian Army's stocks in the interm as DRDO pursues an indigenous design.
As of now, the final fate of the ATGM deal appears to be in flux—at least until we have a new statement from the Indian government either confirming or denying Netanyahu's account.