India to Conduct Validation Trials of Israeli Anti-Tank Guided Missile
India will undertake validation trials of the Israeli-made Spike anti-tank guided missile in 2019.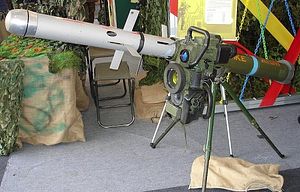 The Indian Army is expected to conduct validation trials of the Israeli-made Rafael Advanced Defense Systems Spike anti-tank guided missile (ATGM) in the summer of 2019 in India's western Rajasthan desert region. New Delhi will be deciding whether to procure the weapon systems as a "stopgap" measure before India can field its own indigenous ATGM system for its land forces.
IHS Jane's reports today that the tests will specifically focus on validating the Spike's infrared seeker. The Spike ATGM "had reportedly not met the IA's operational qualitative requirements in previous trials undertaken in searing summer temperatures in the desert where a large proportion of the systems would eventually be deployed," the trade publication writes, based on conversations with official sources.
The Spike ATGM is a third-generation fire-and-forget weapon system with a tandem-charge high-explosive anti-tank (HEAT) warhead, with the long-range variant of the missile capable of hitting targets at a distance of up to 4 kilometers.
In December 2017, the Indian government scrapped a $500 million deal with Rafael for 321 Spike ATGM systems and 8,356 missiles in favor of an indigenous ATGM system currently under development by India's Defense Research and Development Organization (DRDO). India's Ministry of Defense originally selected the Spike ATGM over the U.S.-made FGM-148 Javelin ATGM system in October 2014.
The cancellation of the deal has led to severe disagreements between the Indian Army's senior leadership and the DRDO, as the service remains deeply skeptical of the DRDO-developed man portable anti-tank guided missile (MPATGM). The Indian Army leadership has reportedly stated that it does not think that the MPATGM will meet the service's operational requirements. It is also concerned about likely delays in the induction of the new weapon system. (DRDO conducted the first successful test firing of the MPATGM in September.)  As I explained earlier this year:
[T]he Indian Army claims that it lacks 68,000 ATGMs of various types and around 850 launchers and is 60 percent short of its authorized holdings. Furthermore, its existing stockpile largely consists of obsolete second-generation Milan-2T and Konkurs anti-tank missiles.

The Indian Army is looking for stopgap measures to quickly address this capability gap by inducting new ATGM systems as quickly as possible. (…)  The service is reportedly pushing for a fast-track procurement of 2,500 third-generation shoulder-fired ATGMs and 96 launchers through a government-government contract.
Following the successful completion of validation trials and the subsequent approval of the purchase by the Indian government, delivery of the first batch of Spike ATGM could begin in late 2019 or 2020 pending the conclusion of a final inter-governmental agreement between India and Israel in the summer of 2019.