A Political Crisis Deepens in the Maldives: The Geopolitical Stakes for India and Its Options
Indian policymakers will weigh the pros and cons of various measures in the coming days. Will New Delhi intervene?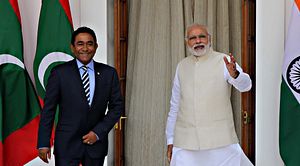 The archipelagic state of the Maldives is in the midst of an all-out crisis, with the government of President Abdulla Yameen having announced 15-day state of emergency. Following Yameen's announcement, which came days after the Supreme Court in the country ordered the release of all political prisoners, the Maldivian army was ordered to resist any orders from the judiciary.
On Monday, Maldivian police detained Supreme Court justices and also Maumoon Gayoom, Yameen's half-brother and the former dictator of the Indian Ocean atoll state for 30 years. The last week's incidents mark an important inflection point in the country's democratic decline, which has been ongoing for nearly three years, since the country's first democratically elected leader, Mohamed Nasheed, was arrested and jailed after a show-trial in 2015. (Yameen was elected democratically in 2013, but has, since 2015, cracked down on the opposition and the rule of law.)
As the Maldives drifted away from democracy, so too did the atoll drift away from India, the closest regional power and a historical source of influence, both economic and political, on the island. As with several smaller southern Asian states, Yameen found a ready and available substitute for Indian influence in China. President Xi Jinping made his interest in the archipelago known in 2014, when he visited the Maldives as part of a tour of South Asia that also included stops in Sri Lanka and India. (A planned visit to Pakistan on that trip was postponed until April 2015.) The most recent crystallization of Chinese influence came toward the end of 2017 when, with barely any domestic debate, the Maldivian government rammed a 1,000-page free-trade agreement through parliament without the opposition present.
"The free trade agreement between China and Maldives signed during the visit was a milestone in the development of China-Maldives economic and trade relations," the two countries noted in a joint communique. For India, the sudden FTA was a tactical surprise, but not a strategic one — Male's drift away from New Delhi under Yameen was a long-running trend. Indian concerns about Maldives' drift toward China are especially resonant today as New Delhi has grown increasingly concerned about an expeditionary Chinese naval presence in the Indian Ocean region.
The newly announced state of emergency will bring Indian strategic elites to a point of reckoning. Will India seize on Yameen's audacious state of emergency declaration to forcefully alter its own policy toward Malé? New Delhi's approach since the period of democratic backsliding began in earnest in 2015 is to pursue a dual-track approach of engagement and pressure, but Yameen has proven resilient, especially given Beijing's support, which comes without any values-based strings attached. (Yameen's intermittent pro-India statements have done little to assuage concerns in India.)
For New Delhi, a show of force — and even a military intervention — might not be out of the question. India has a reputation as a generally noninterventionist state, but that is often overstated and certainly hasn't been true within its neighborhood, where it has long sought to carry and sustain its influence and a sphere of influence. After all, as southern Asia's natural center of gravity, strategic elites in New Delhi generally see no reason India should allow unfavorable domestic outcomes, past a certain point, in other countries to bear on its national interests. To maintain goodwill, India has often acted as the Indian Ocean's "first responder." In 2014, the Maldives saw this first hand when the Indian Navy was first to Malé after the city's only sewage treatment plant went offline, leaving its 100,000 residents without water.
Where once Indian strategic interests in the Maldives were narrower, the atoll has now emerged as a geopolitical linchpin as New Delhi attempts to position itself as the steward of a "free and open" Indo-Pacific in southern Asia in opposition to China's competing vision of regional order. A democratic regression in the Maldives thus is anathema to India's long-term strategic interests in the Indian Ocean region. Beginning with Modi's tour of the Indian Ocean region in 2015, which conspicuously excluded the Maldives after a decline in relations following Nasheed's arrest, the country has been the one glaring gap in India's otherwise successful maneuvers in the region. (Even Sri Lanka, despite its accumulation of Chinese debt, continues productive engagement with New Delhi.)
With the Maldives, India has a particular history too that may be instructive for Indian policymakers today — at least in broadening their decision-space. In 1988, India deployed forces to the country in a limited intervention dubbed Operation Cactus. Four hundred paratroopers entered Malé in November 1988 to reverse a coup against the Maldivian government, which collaborated with the Indians to make a direct landing at the Hulule Island airstrip possible. (Hulule is adjacent to the island of Malé, which hosts the capital.) That effort succeeded and India retained its influence in the country for nearly three more decades while demonstrating its capability to serve as a benign regional hegemon.
With the facts where they are now, a direct Indian intervention — the deployment of Indian forces to Maldivian soil — appears remote. The Indian Ministry of External Affairs' released a travel advisory for Indian nationals on Monday, noting that the "prevailing political developments in Maldives and the resultant law and order situation is a matter of concern for the Government of India." The Ministry, however, issued no general statement of concern on Yameen's actions on Monday, suggesting that whatever engagement is ongoing remained in the realm of private diplomacy. (It issued a separate statement on Friday.) The advisory underlined an important Indian interest as the situation developed: the safety of Indian citizens traveling to and living on the archipelago. (Update: Since publishing, India released a statement on the situation in the Maldives.)
There are a gamut of options available to India. At the onset, the advisory, which notes that Indian nationals should avoid "all non-essential travels" to Malé for the duration of the crisis, could have significant economic consequences for the Maldives, which relies heavily on spending by travelers to the country. (India isn't the largest source of tourists to Maldives, but other countries, including China, the largest source of tourists, have issued similar statements.)
Beyond the advisory, India could implement travel restrictions for Maldivians or any range of economic sanctions paired with coercive diplomacy. However, as India may have learned with Nepal in 2015, when a de facto economic blockade impeded Nepali access to critical Indian goods, heavy-handed sanctions could have longer term effects on public opinion and perceptions. India needs to pursue an outcome where Yameen leaves the scene and, once democracy is fully restored, the next Maldivian government should ideally find it easier than not to pursue rapprochement with New Delhi.
Right now, India has friends on the archipelago that have found themselves as the targets of Yameen's self-aggrandizing campaign for autocratic consolidation. Striking the right balance — by punishing Yameen without punishing the Maldivian economy — won't be easy. India should seek to strike a careful balance then and avoid being seen as a malevolent coercive power. Much will depend, of course, on how the crisis progresses in the coming weeks. Already significant Maldivian opposition voices, mostly notably former President Mohamed Nasheed, are calling for direct Indian involvement.
Beyond these measures, India does have a range of hard power projection tools available. Using military signaling is likely to be more effective on Yameen's choices than other options — especially if New Delhi can credibly indicate that it would escalate matters should Yameen direct the armed forces to use violence on the opposition, for example. It's unclear if India has privately communicated any red lines to Yameen's government, but New Delhi's ability to manage the situation will no doubt depend on its ability to point to a credible capability to intervene. India again will have to consider the fate of its nationals in the Maldives before making any dramatic decision to intervene militarily or make a major show of force.
International consensus and support for any application of Indian hard power will be an important consideration in New Delhi. This isn't 1988, when India was able to win international praise for a unilateral application of hard power to prevent a coup. Yameen is supported by China, which can use its veto power to block any heavy-handed United Nations Security Council resolution. While the United States and the United Kingdom have both issued statements of concern and may back a role for India in the restoration of political normalcy on the archipelago, New Delhi is unlikely to persuade China.
But in the broader geopolitical tug-of-war in the Indian Ocean, Beijing will be watching closely to see what — if any — role India plays in the coming days and weeks with the Maldives. If the state of emergency is extended, or if the government directs lethal force against the opposition, New Delhi will have to act to show that it is still willing to use force to preserve its interests in its neighborhood.
Intervention is costly, unpredictable, and may have significant audience costs domestically for the Modi government, but inaction may put an end to the increasingly doubtful idea that India is the primary steward of a "free and open" Indian Ocean as China attempts to expand its footprint in the region. India will have to make a choice in the coming days.