India's New Gateway to Bhutan
Northeast India could be Bhutan's new gateway to the world.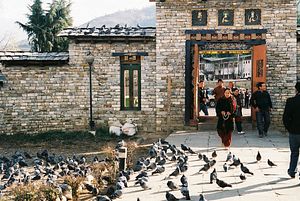 Adding another feather to 50 years of diplomatic relations, Bhutan opened its second consulate office in eastern India on February 2, 2018 at Panjabari in Guwahati, Assam. Prime Minister of Bhutan Tshering Tobgay, who attended the Global Investors Summit 2018 hosted by Assam, was present at the inaugural ceremony. The office was inaugurated jointly by Bhutan's Foreign Minister Damcho Dorji and Chief Minister of Assam Sarbananda Sonowal. Later, in the opening session of the investment summit, Tobgay said, in The Shillong Times' words, that "Bhutan stands to benefit from a prosperous Assam and the country was looking forward to capitalize on the Global Investors Summit."
The opening of the new consulate indicates deepening mutual trust and understanding between the two countries and strong determination for future success. Bhutan has been a major beneficiary of India's Act East policy. As a Buddhist-dominated country, Bhutan has robust cultural, economic, and institutional engagements with East Asian countries like Myanmar, Thailand, Singapore, Cambodia, Vietnam, Japan, and South Korea. Bhutan's foreign minister declared on February 2 that his country would soon have Bhutan-Singapore air service via Assam. 
PDP Foreign Policy
India-Bhutan relations have benefited greatly from India's neighborhood policy. India has been supportive of Bhutan's aspirations to become a self-sufficient, sovereign, and developed country. It has also been Bhutan's largest trade and transit partner. In turn, Bhutan has remained committed to extending support to address India's security concerns. Thus, the relationship has emerged as partnership directed at mutual and regional development.
The relationship consolidated further when Bhutan adopted multiparty democracy in 2008. In an effort toward prompting rapid economic growth, Bhutan's major political parties aimed to diversity the country's foreign policy without necessarily changing the century old policy of "limited engagements." As a result, Bhutan established diplomatic relations with 53 countries by the end of 2013 under the Thinley government, an expansion from the 25 countries it had previously had relations with. In this exercise, however, Bhutan largely neglected northeastern India, which has been a lifeline for Bhutan in terms of education, health, culture, connectivity, security, trade, and transit.  
The People's Democratic Party (PDP) foreign policy, in contrast, aims to shift "from the subregional to global level." The PDP's 2013 election manifesto said that "foreign policy will prioritize to strengthen our [Bhutan] time-tested friendship with India. We [Bhutan] will foster good relations with the neighboring Indian states of West Bengal, Arunachal Pradesh, Assam, Sikkim, and Bihar to ensure the safety of Bhutanese travelling through those states and to convenience business relations." Over the last five years, under the PDP government, Bhutan's foreign policy has focused on strengthening relations with India, Bangladesh, and Nepal and support of the South Asian Association for Regional Cooperation (SAARC), the Bay of Bengal Initiative for Multi-Sectoral Technical and Economic Cooperation (BIMSTEC), and subregionalism, to improve Bhutan's economy. Bhutan also strengthened relationships with other countries. However, its approach has been cautious, prioritizing Bhutan's security and sovereignty. Further, while the Druk Phuensum Tshogpa (DPT) emphasized economic issues, the PDP has focused on security and sovereignty in addition to the economic development of Bhutan.
Immediately after assuming power, the PDP invited private foreign investments in small hydropower projects. In January 2015, the government further relaxed its foreign direct investment (FDI) policy to attract investors. While around 33 FDI projects worth 24.77 billion Bhutanese Ngultrum (about $385 million) were approved from 2010-14, at least 18 new projects were approved in principle as of January 2015.
A comparison of major foreign visits during the Thinley and Tobgay periods reflected that Thinley's foreign policy was more inclined toward the UN, multilateral organizations, and major powers. Other than India, he undertook more visits to non-South Asian countries or regions. During these visits he often discussed the country's Gross National Happiness (GNH) and climate change issues. He also requested that major powers, including China, invest in infrastructure development in Bhutan.
On the contrary, Tobgay has paid more visits to South Asian and East Asian countries. The PDP's foreign policy has been concentrated more on building partnerships with South Asian countries, especially with India. During this period, Bhutan wanted to set an example by taking a lead role in regional cooperation and integration.
Given that Bhutan is going to hold two crucial elections — for the National Council and National Assembly — in 2018, the new consulate office in Assam helps the PDP claim success in implementing its foreign policy goals. It can be presented to voters as a major foreign policy victory, which can also economically benefit Bhutan by connecting more with neighboring provinces in India. The strategically located consulate office may also help smooth border trade, facilitate investments to Bhutan, boost tourism, and address grievances of Bhutanese living in Assam and northeastern India.
The Assam Way
Despite being a founding member and initial euphoria about joining the BBIN, Bhutan failed to ratify the BBIN-MVA (Motor Vehicle Agreement) over possible impacts on the environment due to heavy movements of vehicles from neighboring countries. Bhutanese transporters also had concerns over losing business due to strong competition from India and Bangladesh. As a result, on April 27, 2017, Bhutan withdrew from the BBIN. With Assam emerging as a favorite destination for investments both from India and outside due to its potential as a major logistics hub, natural resources, and manufacturing opportunities, Bhutan may re-engage with BBIN by using waterways to reach out to Bangladesh and India.
Since four river systems in Bhutan connect to the Brahmaputra River, that route could be economically and environmentally viable and also faster and safer than the Darjeeling route (Dooars area), which has been blocked during recent protests against Kolkata over a language issue. It is also unsafe and costly to reach Bangladeshi ports via land routes from Bhutan, given frequent protests and strikes in that country. Assam's location also offers Bhutan the opportunity to do business with other northeastern Indian states and Southeast Asia by using various Asian highways. The Assam government has already set up an Act East policy department in the state.
Doklam Effect
Chinese claims in Doklam and construction of roads on the plateau in June 2017 surprised Bhutan as border negotiations have been ongoing between the two countries since 1984. China's hostile behavior perhaps forced Bhutan to have a more cautious policy in building a deeper partnership with India and other countries through economic routes by having proactive role in BBIN and BIMSTEC. Therefore, Bhutan wants to send a message to China that its relationship with India is not aimed at ganging up on China — it's pure economics.
After the Doklam incident, India perhaps wanted to provide the best alternative routes to landlocked Bhutan, a crucial neighbor, for rapid economic growth.  Since Bhutan has expressed certain reservations on the BBIN-MVA agreements, this could be a first step forward in reintegrating Bhutan with the BBIN. The Assam route could be beneficial to Bhutan to expand its engagements with India's northeast and further toward Southeast Asia. In the future, with new multimodal connectivity arrangements with India and also new investment policies, Bhutan could emerge as a market and manufacturing hub.
Dr. Nihar R. Nayak is a Research Fellow at the Institute for Defence Studies and Analyses (IDSA), New Delhi.