India's Role and China's Roads in the Indo-Pacific
Looking east and south, New Delhi's attention is finally turning to Southeast Asia.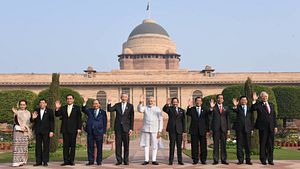 India's response to the turmoil that has beset the island nation of the Maldives in the last few weeks is especially critical to the perennial question as to what India's role in the Indo-Pacific will look like in the 21st century. The authoritarian crackdown, issued by the Maldives' pro-China President Abdullah Yameen, via an overturning of a ruling by the nation's Supreme Court and subsequent declaration of a 15-day state of emergency is unprecedented. Additionally, it is in stark contrast to the sentiments of Yameen's pro-democratic predecessor Mohammed Nasheed who tweeted a request for Indian military presence to instill order in the country.
Nasheed, who says that "China is buying up the Maldives" has turned the spotlight on a trend that is increasingly prominent across Asia's smaller, poorer countries. India has also been described as "late in paying attention to ASEAN, having long focused more on its global role." As a result, just as it has in the Maldives, China has stepped in to fill the leadership vacuum in that region. Modi's relationship-building exercise with Southeast Asian nations is aimed at countering Chinese influence in the broader region. An important consideration must be the implications for India's perceived legitimacy as the regional security provider if it does not act in accordance with its principles by resisting bellicose incursions in its neighbors be they direct or indirect.
This dynamic has been brought into sharp relief considering the lean toward authoritarianism in the Maldives, India's neighbor. As Ankit Panda writes for The Diplomat, "Yameen found a ready and available substitute for Indian influence in China," which has been a ready source of capital and investment to the small nation. This situation is an opportunity for India to assert its regional leadership because in the "the broader geopolitical tug of war in the Indian Ocean… Beijing will be watching." In this regard, India's response to the Maldivian crisis says a lot about the broader dynamics that will shape its decision set in Southeast Asia in coming years.  
The presence of the ten Association of Southeast Asian Nations (ASEAN) heads of state at India's Republic Day celebration in New Delhi on January 26 similarly demonstrated Indian Prime Minister Narendra Modi's commitment to boosting his country's presence in the Indo-Pacific. Southeast Asia is a region where key players have long shared concerns over Chinese hegemony. Chinese ascendance has been accentuated by the lack of significant U.S. engagement in the region, particularly President Donald Trump's decision to withdraw from the Trans-Pacific Partnership (TPP), a multilateral trade agreement involving several regional states.
China has expanded its economic clout in Southeast Asia through the Regional Comprehensive Economic Partnership (RCEP). The RCEP is composed of the ten-member ASEAN bloc and six additional states with which ASEAN has trade deals. These countries are: China, India, South Korea, Japan, Australia, and New Zealand. Together RCEP represents 30 percent of global gross domestic product (GDP) and half of the world's population. Another critical gap between India and China in Southeast Asia, in addition to the existing geostrategic disparity, is in the realm of economics. India accounted for only 2.6 percent of ASEAN's external trade in 2016. Boosting its trade and commercial integration with the region is in India's interest, the interest of the nations of ASEAN, and the interest of any party invested in a stable Indo-Pacific basin where inclusive trade networks can flourish within open seas and a stable and equitable maritime commons. Membership in a successful RCEP would also strengthen India's trade ties with China, Japan, South Korea, and Australia in addition to ASEAN.
Many Southeast Asian strategic and policy elites claim that India has not acted sufficiently on its Act East Policy, initiated after the ascendance of Modi to office. The policy was initiated to make India's East Asian neighbors a foreign policy priority, but has left many observers both at home and abroad disappointed.
The degree of ASEAN member states' economic reliance on China is inversely proportional to their level of economic development. Singapore, for example, has cultivated an international coalition of trade partners, but other less wealthy countries such as Cambodia and Laos depend heavily on Chinese goods. This demonstrates the debt-for-leverage model which the Chinese employ through their Belt and Road Initiative (BRI) — China's economic development plan to enhance regional connectivity that seeks to invest in large scale infrastructure projects in over 68 countries.
The debt-for-leverage model is based on providing Chinese financial support for infrastructure projects in exchange for access to the natural resources of the beneficiary nation. This presents yet another reason for local resistance from India to China's regional overtures as it would allow for leverage in India's neighborhood. However, India may reject participating in BRI due to its incongruence with Modi's "Make in India" campaign as well as sovereign concerns about the BRI subsidiary project that is the China-Pakistan Economic Corridor to be constructed over contested Indian territory. Further, New Delhi's improved ties with ASEAN nations could spell trouble for China's economic ambitions as they would have an alternate source for investment and trade, with massive scale and a political system and foreign ambitions that are less intimidating.
Modi has also sought to boost Delhi's ties with other major players in the Indo-Pacific — the United States, Japan, and Australia. Together, these nations make up the Quadrilateral Security Dialogue which is centered on democracy, rule of law, and a mutual commitment to securing the stability of their maritime commons in the Indo-Pacific. India has the potential to occupy a significant place in a new regional architecture. This would pose a significant threat to Chinese interests in the region and make it once again free for the reconfiguring of a rules-based regional security architecture that will go a long way toward building peace, prosperity, and stability in the Indo-Pacific.
Bharath Gopalaswamy is director of the Atlantic Council's South Asia Center. You can follow him on Twitter @BharathGopalas1.