Report: India Requests Classified F-35A Joint Strike Fighter Briefing
Is the Indian military interested in procuring the F-35A Lightning II from the US?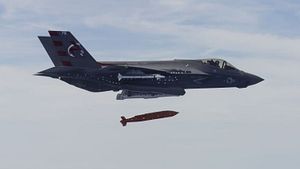 The Indian Air Force (IAF) is formally requesting a classified briefing by U.S. defense contractor Lockheed Martin on the capabilities of its fifth-generation stealth multirole F-35A Joint Strike Fighter Lightning II, the aircraft's conventional takeoff and landing version, according to Indian media reports.
The United States has not formally offered the aircraft to India and any classified briefing would require clearance by the U.S. Department of Defense and the U.S. Department of State. The Business Standard reports that the IAF would possibly be interested in procuring up to 126 F-35As from the United States as a deal for 126 French-made Dassault Rafale multirole fighter aircraft fell through.
Instead, the Indian government announced in April 2016 that it would procure 36 Rafale fighters in fly-away condition from France. Originally, the Indian Ministry of Defense's Medium Multi-role Combat Aircraft (MMCA) project foresaw Rafale partnering with India's Hindustan Aeronautics Limited (HAL) in assembling 108 out of 126 fighter jets locally with only the first batch of 18 Rafales procured from France directly in flyaway condition.
The IAF wants to add 200 to 250 single-engine aircraft in the medium weight category over the next decade as it pushes to increase the number of operational fighter squadrons, currently at 33, to 42 by 2027. Consequently, the F-35A could be a viable alternative to other Western models such as Sweden's Gripen-E and the U.S. F-16 Block 70. (Both aircraft did not make the short-list for the original MMCA deal.)
"The F-35's affordability is also attractive for New Delhi. In contrast to the bare-bones price of $115 million for each Rafale fighter (with India-specific enhancements, spares, logistics and weapons all extra), the F-35A cost customers $94.6 million last February," the Business Standard notes. "Lockheed Martin says it will reduce the cost to $80 million by 2020."
Any F-35A deal, however, would require the establishment of a local assembly line in India as mandated under the framework of the 2016 Indian Defense Procurement Procedure to facilitate the manufacturing of high-tech military hardware India.
As India is already engaged in co-developing and producing the Sukhoi/HAL Fifth Generation Fighter Aircraft (FGFA), known in India as the Perspective Multi-role Fighter (PMF), it appears more than unlikely that the U.S. government would consent to producing the F-35A locally as it would entail transfer of sensitive military technology to India.
Rumors over a possible F-35A production facility emerged earlier this year, but were quickly dismissed by Lockheed Martin. "F-35 production is based [in] Fort Worth, Texas, and Final Assembly and Checkout Operations (FACO) facilities are located in Cameri, Italy, and Nagoya, Japan. The article referencing F-35 production in India was misreported and incorrect. The conversation was in regards to F-16 production," Lockheed spokesman told Defense News in January.
The bottom line is that it is unlikely that India will procure the F-35A in the near future as neither Lockheed Martin nor the U.S. government currently have any incentives for a sale of one of its most advanced fighter jets to India, despite the country recently being designated a Major Defense Partner. Instead, it is more probable that Lockheed Martin will establish a joint production facility for F-16 Block 70 in India.