South Korea Upgrades KF-16 Fighter Jets With Enhanced Situational Awareness Capability
Republic of Korea Air Force K-16s will be upgraded with JHMCS II.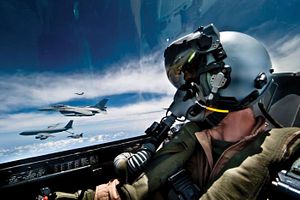 The Republic of Korea Air Force (ROKAF) will upgrade its fleet of KF-16C/D Block 50/52 fighter jets, a license-produced variant of the General Dynamics F-16 Fighting Falcon, with the the Joint Helmet Mounted Cueing System II (JHMCS II) helmet-mounted display to enhance the pilots' situational awareness in an ongoing effort to boost South Korean airpower.
"Our next-generation, helmet mounted display systems provide game-changing situational awareness capabilities for pilots," commented Raanan Horowitz, president and chief executive officer of Elbit Systems of America in a February 21 statement.  "We are committed to giving U.S. and allied warfighters the technology and capabilities needed for the decisive edge in mission effectiveness and pilot safety."
The ROKAF currently operates 170 KF-16C/D Block 50/52 fighter aircraft, 134 of which will are undergoing extensive modernization and upgrades as part of a comprehensive improvement program. Lockheed Martin was awarded a $1.2 billion contract to retrofit the 134  KF-16s and upgrade them to the advanced F-16V configuration—the latest and technologically most advanced version of the fourth generation fighter jet.
The JHMCS II is part of this modernization drive. "The ROKAF version of the JHMCS II helmet provides pilots with enhanced situational awareness during day and night missions with immediate and accurate visor-projected display of friendly, threat, and unknown targets," the Elbit Systems statement reads. "Like its predecessor, the combat-proven JHMCS, the JHMCS II provides pilots and aircrew the capability to direct sensors and aim weapons."
Next to the JHMCS II, South Korea's fleet of KF-16s with advanced weapons systems including the AIM-120 mid-range air-to-air missile and the GBU-31JDAM (Joint Direct Attack Munition) air-to-ground guided bomb under he ROKAF's F-16 Peace Bridge Upgrade (PBU) program, which began in November 2009. "The upgraded F-16 PBUs will have the same capability of the KF-16 jets and will operate as the main combat planes charged with defending South Korea's air," a ROKAF official said in 2016.
The PBU program will also include upgrades to "an Active Electronically Scanned Array (AESA) radar, a modern commercial off-the-shelf (COTS)-based avionics subsystem, a large-format, high-resolution center pedestal display and a high-volume and high-speed data bus," according to a 2016 Lockheed Martin press statement.  A 2015 statement by the Defense Security Cooperation Agency (DSCA) emphasizes that the PBU program aims to ensure "interoperability and continued relations between the ROK and the U.S. Government for the foreseeable future."
The upgrade of all 134 aircraft is expected to be completed by November 2025.
The ROKAF is also slated to procure 20 additional fifth-generation Lightning II F-35A stealth fighter jets — the aircraft's conventional takeoff and landing variant– to boost the service precision strike capability against North Korean targets.