US Conducts First Successful THAAD-Patriot Communications Test
The test is the first step toward greater interoperability between the two missile defense platforms.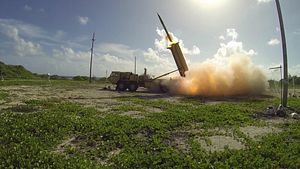 The U.S. Missile Defense Agency (MDA) successfully conducted a test on Friday to integrate two terminal missile defense systems.
A test at White Sands Missile Range in New Mexico on Friday was the first to successfully link the Terminal High Altitude Area Defense (THAAD) system to a Patriot system, demonstrating integrated communication between the two systems.
According to the Missile Defense Agency, Friday's test did not involve the firing of any interceptors, but instead saw a THAAD-linked Army-Navy/Transportable Surveillance Radar Model 2 (AN/TPY-2) X-band radar and Patriot system track a short-range target Lynx missile.
The test appears to have validated communications between the two systems using tactical data links, according to the MDA.
"These two weapon systems are vitally important as components of our layered ballistic missile defense system and it is critical that they are able to transmit data and communicate with one another," MDA Director Lt. Gen. Samuel Greaves said in a statement released after the test.
Interoperability between THAAD and Patriot would see use in South Korea, where the U.S. military operates six THAAD launchers, paired with an AN/TPY-2 radar.
The South Korean military is also procuring the more advanced Patriot Advanced Capability-3 (PAC-3) interceptor system, which is better suited for the interception of short-range ballistic missiles.
In 2016, the United States temporarily moved a Japan-based PAC-3 to Busan, South Korea for alliance exercises. South Korea currently operates its own PAC-2 systems as well, which were purchased from Germany in 2008.
The U.S. Missile Defense Agency intends to fully integrate THAAD and Patriot over the next few years.
Future testing may include the use of live interceptors, with Patriot — likely PAC-3 — focusing on intercepting lower altitude threats that it is better suited to handle while THAAD intercepts higher-altitude, longer-range ballistic missile threats.
China, which strongly protested the 2016 decision by the U.S.-South Korea alliance to deploy THAAD on the Korean Peninsula, will likely follow THAAD-Patriot interoperability development closely.
Beijing's primary concern with the deployed THAAD site in South Korea is that the powerful AN/TPY-2 X-band radar could potentially enhance the U.S. ability to degrade China's strategic deterrent.
While the United States does not have any plans to operate THAAD off anything but the linked AN/TPY-2 radar system as the primary sensor, interoperability with South Korea's future PAC-3s could allow operations off comparatively less powerful L-band radars.
This could free up the deployed AN/TPY-2 radar to operate in "forward-based" mode instead of "terminal mode," allowing it to focus on Chinese ballistic missile testing.