Kim Jong-un Congratulates Xi Jinping on His Reappointment to a Second Term as China's President
The North Korean leader congratulates Xi as he enters his second term as China's president.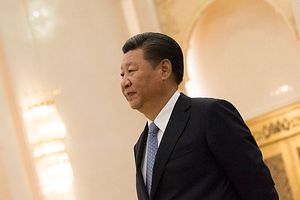 North Korean leader Kim Jong-un has congratulated Chinese President Xi Jinping on his unanimous appointment by the Chinese National People's Congress (NPC) on Friday to a second term as China's president. In a message carried by the Korean Central News Agency (KCNA), North Korea's state-run news agency for external consumption, Kim said he "warmly congratulated" Xi.
"Expressing belief that the bilateral relations would develop in the common interests of the peoples of the two countries, the message wished the Chinese president big success in his responsible work," KCNA paraphrased Kim as saying.
KCNA noted that Kim had confidence China would accomplish greater things with "Xi Jinping at the core," referring to the Chinese leader's elevated status as the country's core leader.
The message is the first direct, public communication from Kim toward Xi since a similar congratulatory message after China's 19th Party Congress in October 2017.
KCNA carried a reply to Kim from Xi Jinping back then, noting that he wished "under the new situation the Chinese side would make efforts with the DPRK side to promote the relations between the two parties."
"I wish the Korean people steadily fresh successes in the cause of socialist construction under the leadership of the WPK headed by Chairman Kim Jong Un," Xi had said, according to KCNA.
Kim's message to Xi this week also comes after the NPC voted to amend the Chinese state constitution to remove term limits on the presidency and vice presidency, assuring Xi a path to remain China's leader past the expiration of his second term in 2023. Kim has yet to meet Xi, or any other foreign leader, since coming to power in December 2011 after his father's death.
China has long been North Korea's most important foreign partner and benefactor, even though relations have declined in recent years under Kim Jong-un. China continues to account for an overwhelming majority of North Korea's overseas trade and the two countries share a 1,400 kilometer border.
In 2017, China voted in favor of multiple new sanctions resolutions at the United Nations Security Council after North Korea's first tests of the Hwasong-14 and Hwasong-15 intercontinental-range ballistic missiles and its test of a claimed thermonuclear device.
While Xi and Kim have exchanged statements in recent months, it's unclear if the two are any closer to meeting. Kim has extended an invitation to both South Korean President Moon Jae-in and U.S. President Donald Trump for summits—both of which have been accepted by the two leaders.
This raises the possibility that Kim will meet an American and a South Korean leader before meeting Xi.