Kim Jong Un to Make Third Trip to China, One Week After Singapore Summit With Trump
The North Korea leader will likely brief Chinese President Xi Jinping on the outcomes of the June 12 summit in Singapore.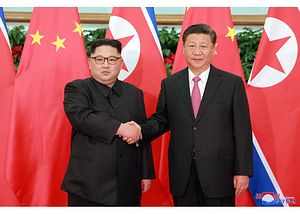 North Korean leader Kim Jong Un is expected to arrive in China on Tuesday for his third trip to the country since March this year. Kim first traveled to China to meet with Chinese President Xi Jinping in March in Beijing and again in May in Dalian.
Chinese state media confirmed Kim's scheduled trip in a short notice published on Tuesday morning. "Kim Jong Un, chairman of the Workers' Party of Korea and chairman of the State Affairs Commission of the Democratic People's Republic of Korea, visits China from June 19 to 20," China's Xinhua news agency reported.
Kim is expected to be received by Xi in Beijing. Xinhua provided no details about what Kim would do while in China.
North Korean state media has not confirmed the trip, but Monday's Rodong Sinmun included an article noting that Kim had "sent a congratulatory letter and a floral basket to Xi Jinping … on his birthday."
Kim's trip to Beijing comes exactly one week after his historic summit meeting with U.S. President Donald J. Trump. His latest meeting with Xi will likely be framed as an opportunity for the North Korean leader to brief his Chinese counterpart on the results of the U.S.-North Korea summit meeting.
This trip would also make Xi the foreign leader to have met with Kim most regularly, underlining the close historical relationship between China and North Korea. Since making his first known trips out of North Korea after taking up the leadership of the country in 2011 earlier this year, Kim has met Xi twice and South Korean President Moon Jae-in twice.
The visit would also serve to underline that Kim is adhering to a request made by Xi at their first meeting in Beijing. According to Xinhua's report on that meeting, Xi call on Kim to "continue giving play to the guiding role of high-level exchanges."
This request included the continuation of high-level exchanges, including personal meetings between Kim and Xi, and, above all, "frequent contacts." China wanted to make sure that it had a better sense of North Korea's interests and objectives.
Kim's visit to China comes also as the United States and South Korea announced that they would be cancelling the 2018 Ulchi-Freedom Guardian military exercises, scheduled originally for August. China had proposed a so-called freeze-for-freeze last year, whereby North Korea would cease all nuclear testing and ballistic missile launches in exchange for the U.S.-South Korea alliance modifying or cancelling their military exercises.
After the conclusion of the June 12 summit deliberations, Trump announced that he had decided to end joint exercises with South Korea, which he described as "provocative."