US-ASEAN Defense Ties in Focus With Maritime Security Exercise
A closer look at the ongoing activity within the annual SEACAT exercise and its significance.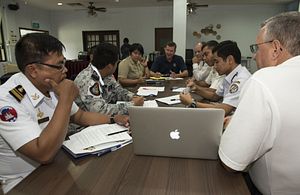 On August 27, the United States and South and Southeast Asian states kicked off this year's iteration of the Southeast Asia Cooperation and Training (SEACAT) exercises. The drills put the spotlight on ongoing efforts by the United States and allies and partner countries in Southeast Asia to boost collaboration on maritime security in the wider Indo-Pacific.
As I have noted before in these pages, SEACAT is one of the main multilateral exercises that the United States carries out involving largely Southeast Asian states. The exercise began in 2002 under the name "Southeast Asia Cooperation Against Terrorism," but was then subsequently renamed in 2012 to expand the scope of training among regional navies and coast guards. It has since evolved as a means to promote multilateral cooperation and information-sharing among navies and coast guards in South and Southeast Asia, bringing together personnel to execute maritime responses to scenarios to better tackle maritime security challenges such as smuggling, piracy, human trafficking, and illegal fishing.
On August 27, the United States kicked off the 17th iteration of the SEACAT exercises. According to the U.S. Navy, this year's exercise features nine countries, with seven of them being from Southeast Asia – Bangladesh, Brunei, Indonesia, Malaysia, the Philippines, Singapore, Thailand, and Vietnam will take part along with the United States. This constitutes an effective decrease from the 11 countries that participated last year, when Myanmar and Sri Lanka were also included.
As is typical with such exercises, while there is largely continuity with respect to its main aspects such as seminars, workshops, and operations there are some notable, ongoing changes too. For instance, with respect to scenarios during the drills, the U.S. Navy noted that this year's exercise would incorporate increasingly complex maritime interdiction scenarios. The sea phase itself includes 15 boarding operations by multiple nations across three vessels, including in the Sulu Sea, a site of ongoing minilateral cooperation between Indonesia, the Philippines, and Thailand (See: "Malaysia Spotlights Expanded Sulu Sea Trilateral Patrols").
Beyond the scenarios themselves, another feature is the growing integration of information sharing centers, a critical step within Washington's broader, longer-term objective to foster a common operating picture between like-minded states through a range of initiatives. This year, the centers include Singapore's Information Fusion Center (IFC); Maritime Operations Centers (MOCs) in Brunei, the Philippines, and Thailand; as well as the Combined Enterprise Regional Information Exchange System (CENTRIXS), a global multinational information sharing initiative to communicate in real time during such exercises.