What Did the Latest US Asia Maritime Security Exercise Achieve?
This year's iteration of SEACAT marked yet another step in Washington's effort to expand its exercises in the Asia-Pacific.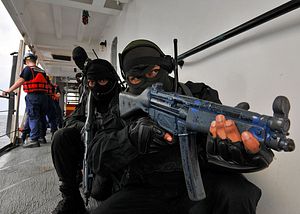 WASHINGTON, D.C. – Last week, the United States and South and Southeast Asian states ended the latest iteration of the Southeast Asia Cooperation and Training (SEACAT) exercise. The drills, which featured a larger number of participants compared to the previous year, represents one of several steps the United States is taking to increase its bilateral and multilateral exercises in the Asia-Pacific.
SEACAT, which began in 2002 under the name "Southeast Asia Cooperation Against Terrorism," was renamed in 2012 to expand the scope of training among regional navies and coast guards. Designed to promote multilateral cooperation and information-sharing among navies and coast guards in South and Southeast Asia, SEACAT typically brings together liaison officers to execute maritime responses to scenarios to better tackle maritime security challenges such as smuggling and piracy. It usually comprises a series of workshops, information exercises, as well as operations at sea.
The 16th iteration of SEACAT, which took place from August 21 and went on up to September 1, featured participation from eleven countries – the United States, Bangladesh, Brunei, Burma, Indonesia, Malaysia, the Philippines, Singapore, Sri Lanka, Thailand, Vietnam.
This is an increase from the nine countries last year, reflecting both a boost for SEACAT itself as well as for a broader U.S. effort underway to expand its bilateral and multilateral exercises in the Asia-Pacific which I have written about previously (See: "US Eyes Expanded Military Exercises with ASEAN Navies").
This year, Burma, Vietnam, and Sri Lanka were included, reflecting the uptick in maritime cooperation – to varying degrees – we have witnessed of late in these cases (See: "US-Vietnam Defense Relations Under Trump Get a Boost With First Aircraft Carrier Visit"). Meanwhile, Cambodia was unsurprisingly left out given the signs we have seen in the broader U.S.-Cambodia defense relationship (and Cambodian foreign policy and domestic politics more generally ahead of next year's general elections) over the past year (See: "Why Did Cambodia Just Downgrade US Military Ties Again?").
Another notable development with respect to this year's SEACAT was an expansion in terms of the involvement of maritime operation centers in both Singapore and Brunei, Arlo Abrahamson, public affairs officer at the U.S. Seventh Fleet's Task Force 73, which helps plan and execute these exercises, told The Diplomat.
There was an academic seminar held in Singapore, a command post exercise involving Singapore and Brunei, and a boarding workshop in the Philippines that saw the participation of both the Philippine Navy and the Philippine Coast Guard for the first time (See: "Philippines Coast Guard in the Spotlight Amid Islamic State Terror Threat").
The shape of Manila's participation this time around is not without significance. At a broader level, it is yet another indicator of the ongoing defense cooperation between the two treaty allies in spite of the complications posed by President Rodrigo Duterte (See: "US-Philippines Air Force Cooperation in the Spotlight Amid Exchange"). But more specifically, it is important because of the role that the Philippine National Coast Watch Center plays in wider U.S. regional and subregional maritime security initiatives like the Southeast Asia Maritime Security Initiative (MSI) (See: "America's New Maritime Security Initiative for Southeast Asia").
That is worth emphasizing, especially as headlines continue to be dominated by "firsts" in the Sino-Philippine relationship as Duterte continues his engagement of Beijing as part of what some members of his administration have termed an "independent foreign policy." This includes unprecedented cooperation between the coast guards of both countries, which appears to be gradually progressing (See: "What's Behind the New China-Philippines Coast Guard Exercise?")
Liaison officers from Sri Lanka, Burma, Bangladesh, Thailand, Malaysia, Singapore, and the United States operated from Singapore's Multinational Operations and Exercises Center; personnel from the Philippines, Brunei, Indonesia and the United States operated from Brunei's Multinational Coordination Center; and U.S. Coast Guard personnel also conducted a comprehensive boarding workshop in Manila with the Philippine Coast Guard (PCG) alongside boarding teams from Sri Lanka, Thailand, Vietnam, Malaysia, the Philippines, and Indonesia. All in all, the sea phase of the exercise featured seven boarding operations across three vessels, including the expeditionary fast transport vessel USNS Millinocket.