Why the Vietnam President's India Visit Matters for Security Ties
The weekend trip attests to the logic of increased security cooperation between the two major Asian players.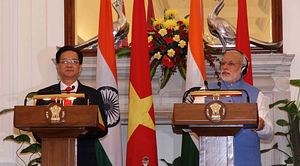 In addition to the manifold story lines that have emerged in recent days, Vietnamese President Tran Dai Quang's India visit, which kicked off on March 2 and will last till March 4, is a testament to the growing closeness in the bilateral security ties between Hanoi and New Delhi.
Quang's visit comes at a time when momentum for bilateral ties and India's ties with Southeast Asia in general are at a high level. This is a trip that is coming just a few weeks of the Vietnamese Prime Minister Nguyen Xuan Phuc's visit to India as chief guest at India's Republic Day celebrations in January, along with the leaders from all the other ASEAN countries.
Quang's visit also marks 45 years of diplomatic relations between Vietnam and India and is centered on continuing efforts to deepen the Comprehensive Strategic Partnership between the two countries. According to the Vietnamese Ambassador in India, Ton Sinh Thanh, the President will deliver an address on March 4, which is set to be an "important policy statement."
On the security side, India and Vietnam share concerns about the growing Chinese power and how it might impact on their national security. Nowhere is that clearer than in the South China Sea. Responding to China's aggressive posturing in the South China Sea, Vietnam has called on India to play a more proactive role in Southeast Asia.
India, for its part, has reiterated the importance of and adherence to international law, especially the United Nations Convention on the Law of the Sea (UNCLOS), in settling the South China Sea issue. Speaking about the Indo-Pacific waters in Indonesia in January this year, Minister of External Affairs Sushma Swaraj said, "These waters must not only get better connected, but remain free from traditional and non-traditional threats, that impede free movement of people, goods and ideas. Respect for international law, notably UNCLOS, in ensuring this is, therefore imperative."  She added that ASEAN and India are maritime nations and that India will strive "to evolve a regional architecture based on the twin principles of shared security, and shared prosperity."
Both India and Vietnam have unresolved disputes with China and have been subjected to aggressive Chinese tactics. Vietnam is one of the handful of countries in Southeast Asia that has stood up to Chinese pressure, even though how long Vietnam can hold up against China is open to question. In addition to the gross imbalance of power between the two countries, a recent RAND study concludes that Vietnam may not be able to engage in "an extended, large-scale, or high-intensity conventional conflict in the region" for a variety of reasons. Thus, it is no surprise that Vietnam is keen that states like India, Japan, and the United States help build up its capabilities, especially on the air and naval fronts.
India is clearly keen to help, and New Delhi has a comprehensive defense and security relationship with Vietnam. The growing number of high-level bilateral visits, annual security dialogues, and military-to-military cooperation are an indication of the growing convergence in security matters. The Joint Commission Meeting at the Foreign Ministers' level and the Foreign Office Consultations, Strategic Dialogue at the Foreign Secretary level, and Security Dialogue at the Defense Secretary level are some of the useful institutional mechanisms that have propelled the relationship.
Beyond this, India has been training the Vietnamese military in operating its Russian-built Kilo-class submarines and SU-30 fighter jets. Supply of military spares, maintenance of hardware, and ship visits are also other important facets of the defense cooperation. The two sides have also signed an MoU for Coast Guard-to-Coast Guard collaboration. During Prime Minister Modi's visit to Vietnam, New Delhi gave Hanoi a $500 million line of credit for defense cooperation. Sale of Brahmos missiles to Vietnam has also been reported from time to time, though it has yet to be confirmed.
While defense ties have somewhat dominated the headlines regarding the relationship because of China, there is an effort to continue to boost other aspects of the relationship as well, particularly in the economic realm. It is therefore no surprise that the visiting delegation includes the Foreign Minister Pham Binh Minh, ministers for trade and industry and planning and investment, as well as a large group of businessmen. During the visit, the two countries are expected to sign a Memorandum of Understanding (MoU) on nuclear energy, agriculture and trade and investment. An MoU for joint port development and a joint venture on a coal project are also likely to be signed during the visit.
To be sure, the India-Vietnam bilateral trade is a miniscule one compared to Vietnam-China bilateral trade, which is around $70 billion. But it is also true that given India's market size and continued economic improvements and Vietnam's rapidly rising economic profile, trade and investment should pick up in the bilateral context with India. This could in turn also give fillip to the bilateral strategic engagement, making the relationship a more comprehensive one.
Shared concerns about China have brought India and Vietnam particularly close in the recent years. Unless China mends its ways, which seems quite unlikely, expect to see Hanoi and New Delhi continue deepening their strategic and defense ties in the future.