India's Outrage Over Gang Rape, Murder of 8-Year-Old Girl
Photos from a protest in Delhi's Jantar Mantar area.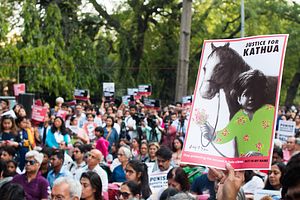 Thousands of people in India's capital took to streets this weekend to express their anger and shock over the gang rape and murder of an eight-year-old girl in a Hindu temple in northern India.
The victim, identified as Asifa Bano, a member of a nomadic Muslim tribe in the state of Jammu and Kashmir, was given sedatives so that she wouldn't even make noise when she was repeatedly gang raped and tortured, according to police records. Her mutilated body was found in a jungle.
The main accused is a Hindu priest. Some police officers not only sought to shield him after accepting a bribe, but one of them also asked him to wait to murder the girl until he raped her "one last time."
While the rape and killing took place in January, national newspapers have just learned about and reported on the incident, which has led to demonstrations across the country.
StoriesAsia photographed people's anger in central Delhi's Jantar Mantar area, a popular protest ground, on Sunday evening.
Avinash Giri and Nantha Kishore are reporters with StoriesAsia.