US Navy Christens New Littoral Combat Ship
The U.S. Navy's latest warship was christened on April 14.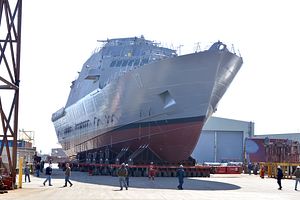 The U.S. Navy has christened its latest Freedom-class Littoral Combat Ship (LCS), the future USS Indianapolis (LCS 170), on April 14 at the Fincantieri Marinette Marine (FMM) shipyard in Marinette, Wisconsin. The Indianapolis is the 17th LCS overall and the ninth Freedom-class variant launched by the U.S. Navy.
The LCS is a dual-class consisting of the Independence and Freedom variants. Freedom-class LCS have a monohull design. Independence-class LCS feature a unique trimaran hull and a larger flight deck, meaning that they can carry two rather than just one helicopter. The Independence-class also has a larger fuel capacity and boasts a wider operational range. Freedom-class LCS are built by U.S. defense contractor Lockheed Martin, whereas construction of the Independence-class is led by Austal USA.
The U.S. Navy is touting the LCS as capable multirole surface platforms. "The future USS Indianapolis is a fast, agile, focused-mission platform designed for operation in near-shore environments yet capable of open-ocean operation," an April 12 U.S. Navy statement reads. "It is designed to defeat asymmetric 'anti-access' threats such as mines, quiet diesel submarines and fast surface craft."
Using an open architecture design, both LCS classes can be fitted with interchangeable mission package providing specific capabilities for surface warfare (SUW), anti-submarine warfare (ASW), and mine countermeasures (MCM) missions in the littoral region. Depending on the mission package, an LCS can be fitted with additional weapons systems.
As I explained previously, standard armaments include a 11-cell Raytheon RIM-116B SeaRAM missile-defense system, one 57-millimeter naval gun, and depending on the mission package, AGM-114 L Hellfire missiles and Mark 5o torpedoes, among others.
However, both LCS variants were not designed for high-intensity combat and lack crucial capabilities, as a January 2018 report by the Pentagon's office of Operational Test and Evaluation confirms:
Survivability testing and preliminary analyses on both LCS variants continue to demonstrate that neither LCS variant is survivable in high intensity combat. Although the ships incorporate capabilities to reduce their susceptibility to attack, testing of analogous capabilities in other ship classes demonstrated that such capabilities have limited effectiveness in high intensity combat.
The Pentagon's operational testing and evaluation arm concludes:
As designed, the LCS lacks redundancy and the vertical and longitudinal separation of vital equipment found in other combatants. These features are required to reduce the likelihood that a single hit will result in loss of propulsion, combat capability, and the ability to control damage and restore system operation.
For years there have been doubts whether both LCS variants can fulfill their mission requirements. (The Freedom-class has been particularly accident prone and a number of LCS were put out of action due to technical problems or human error in 2016.) Consequently, next to various LCS upgrades, the U.S. Navy wants to shift from LCS to procuring more capable guided-missile frigates called the FFG(X) beginning in 2020.
Despite efforts to restructure the U.S. Navy's LCS program, USNI News recently reported due to a combination of factors including extended maintenance periods and additional retrofitting requirements, the Navy may not deploy any of its LCS this year despite previous plans to deploy one to the Middle East and two to Singapore in 2018.