Japan Debating Size of Sub Killer Aircraft Fleet
The Japanese government is currently deliberating the size of its P-1 maritime patrol aircraft fleet.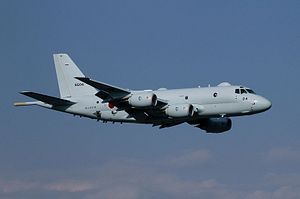 The Japanese government is currently debating the size of its future fleet of Kawasaki P-1 maritime patrol aircraft as Tokyo has yet to determine its long-term military spending plans, according to a recent Flight Global report.  Furthermore, the government has yet to make a decision whether Japan's first indigenously developed and built maritime patrol aircraft could be exported to international buyers.
The Japan Maritime Self Defense Force (JMSDF) currently operates 15 P-1 aircraft, developed by Kawasaki Heavy Industries as an indigenous replacement for the service's Lockheed Martin P-3C Orion. As of now, however, there are "no specific plans at the moment" to expand the P-1 fleet, according to Ryota Ishida, the P-1 program manager at Japan's Ministry of Defense (MoD), although there are tentative plans to field a total force of 58 aircraft in the long term (65 P-1s, according to a previous statement).
The JMSDF fleet of P-3C Orions currently consists of 80 aircraft. The MoD reportedly plans to eventually replace all of these planes with P-1s at a rate of 1-2 aircraft per annum. The P-1 conducted its maiden flight in 2007 and entered operational service in 2016. I explained the  aircraft's technical and operational characteristics previously:
First introduced in the JMSDF in March 2013 for "an operational test period" of two years, the P-1 is a four-engined jet powered aircraft with a range of 8,000 km (4,970 miles) and a maximum speed of 996 km/h (619 mph). In order to detect and track submarines as well as smaller surface vessels, the jet is equipped with cutting-edge acoustics and radar technology.
These technologies include the HPS-106 active electronically scanned array radar system, a magnetic anomaly detection system as well as infrared/light detection systems. It is also the world's first operational aircraft to use a fly-by-light control system. The P-1 can be armed with anti-ship missiles, air-to-surface missiles, torpedoes, mines, depth charges, as well as bombs of different variants. It can also carry a number of sonobuoys for anti-submarine warfare missions.
For a number of years, Japan has unofficially been interested in exporting the P-1 to international customers. In the past, it has purportedly offered the aircraft to Great Britain, India, and Thailand, among others. Japan's MoD recently also sent two P-1s to Germany for an appearance at the ILA Berlin air show to promote the aircraft to European navies.
"We have brought the aircraft here to promote Japan's very high level of technology to the world," Ishida said. "We have never made any sort of calculation on what it would cost for foreign customers." However, the MoD has so far not approved exporting the aircraft to foreign militaries and has reiterated that it has no intention of pursuing exports.