Thailand Mulling Purchase of Japanese Sub-Hunting Aircraft
Bangkok is also purportedly interested in amphibious rescue aircraft from Japan.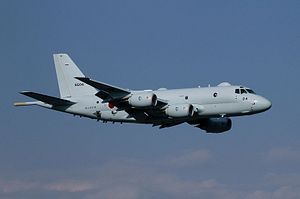 Thailand is considering the purchase of Japan's first indigenously developed and built maritime patrol aircraft, the Kawasaki Heavy Industries P-1, along with US-2 maritime surveillance aircraft, Nikkei Asia Review reports.
Japan's defense minister, Gen Nakatani, is slated to meet Thailand's deputy prime minister and defense minister, Prawit Wongsuwan, to discuss a possible arms deal in Bangkok on June 7.  The talks will also cover discussions on deepening defense technology cooperation between the two countries.
"The contract, a prerequisite for exports of defense equipment from Japan, would require Thailand to get Japan's nod before transferring or using any of the supplied equipment and related technologies for purposes other than those initially set forth," Nikkei Asia Review states.
Japan has been marketing the P-1 submarine-hunting plane as an alternative to the older Lockheed Martin P-3 Orion, a maritime patrol aircraft currently in service in Australia, Japan, South Korea, New Zealand, Taiwan, and Thailand.
Tokyo has also been offering ShinMaywa US-2 amphibious search-and-rescue aircraft to a couple of Asian-Pacific countries including India. While India has expressed interested in the aircraft since at least 2011, no deal has been signed until now and Japanese officials stated in March 2016 that Japan has no plan for "selling or delivering" the US-2 maritime surveillance aircraft in the immediate future (See: "Is the Japan-India Military Aircraft Deal Dead?").
The more consequential piece of military hardware currently under consideration by the Thai military is the long-range, long-endurance P-1 sub-hunting plane. As I reported previously (See: "Japan Seeks to Export its New Sub-Hunting Plane"):
 First introduced in the JMSDF in March 2013 for "an operational test period" of two years, the P-1 is a four-engined jet powered aircraft with a range of 8,000 km (4,970 miles) and a maximum speed of 996 km/h (619 mph). In order to detect and track submarines as well as smaller surface vessels, the jet is equipped with cutting-edge acoustics and radar technology.
The aircraft features a sensor suite that integrates HPS-106 Active Electronically Scanned Array (AESA), magnetic anomaly detection (MAD), and Infrared/Light detection systems. The aircraft can be armed with anti-ship missiles, air-to-surface missiles, torpedoes, mines, depth charges, and bombs. "The P-1 is especially suited for low-altitude [anti-submarine warfare] with its large wing and spacious fuselage," according to a Japan Maritime Self-Defense Force brochure distributed at a conference in Washington D.C. in May.
While the transfer of the low-technology US-2 amphibious search-and-rescue aircraft will, in all likelihood, prove less of a challenge in the long-run (although the Japan-India negotiations might prove otherwise), it remains to be seen how quickly Japan and Thailand can reach an agreement on technology transfers when it comes to the P-1 aircraft. As with any defense deal, offset requirements could also be a major stumbling block.