US Navy Attack Sub to Participate in Japanese Anti-Submarine Warfare Drill
A U.S. Navy submarine will participate in the Japan Maritime Self-Defense Force Submarine Competition this week.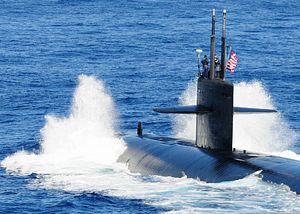 The U.S. Navy is dispatching a Los Angeles-class nuclear-powered attack submarine (SSN) to participate in an anti-submarine warfare exercise, code-named Submarine Competition (SUBCOMP), hosted by the Japan Maritime Self-Defense Force (JMSDF), and expected to take place February 13 to 20 in waters south of Japan.
Last year's iteration of the exercise also featured a Los Angeles-class SSN, along with the first ever participation of a Royal Australian Navy Collins-class diesel-electric attack submarine (SSK). SUBCOMP is designed to evaluate and test JMSDF crews across multiple platforms on their ability to conduct various aspects of anti-submarine warfare.
The JMSDF will participate with several submarines, anti-submarine warfare aircraft, and five surface combatants, including the Hyuga-class helicopter destroyer JS Ise, which also serves as the command ship for Japanese naval forces during the exercise.
The JMSDF submarine force is divided up into two flotillas, Submarine Flotilla 1 and Submarine Flotilla 2, based in Kure, Hiroshima prefecture and Yokosuka, Kanagawa prefecture. About a third of JMSDF submarines are deployed at any given time.
The JMSDF submarine fleet currently consists of 18 SSKs divided up into two classes, the 4,000-ton (submerged) Oyashio-class and the technically more advanced and slightly bigger 4,200-ton Soryu-class of SSKs.
The JMSDF currently fields nine Oyashio-class and nine Soryu-class submarines with four more boats of the latter class to be inducted by 2021. The latest Soryu-class SSK was commissioned in March 2018. In October of last year, Japan launched the future JS Oryu, the first Soryu-class submarine to use long-endurance lithium-ion batteries. Two additional Oyashio-class SSKs serve as training submarines for new crews and as test platforms for new technology.
Notably, during this year's SUBCOMP, a U.S. Navy sonar technician from the U.S. Pacific Fleet Navy Data Center will embark a JMSDF submarine. "Having a U.S. Sailor onboard will provide valuable insight into diesel submarine operations and tactics," said U.S. Navy Captain John Stafford, the Submarine Group 7 Deputy Chief Of Staff for Operations.
"The success of September 2017's engagement is an indication of how valuable this training is to our readiness and bilateral cooperation," according to Stafford. "This is the kind of anti-submarine exercise our crews train for at home and practice at sea."
The U.S. Navy and JMSDF are conducting various anti-submarine exercises throughout the year.
"We are very pleased to have a U.S. Navy submarine play a role in this year's Submarine Competition," said Captain Toshiaki Hoshina, deputy chief of staff for operations for the commander of the JMSDF Submarine Force. "Their participation will significantly improve our interoperability and strengthen the partnership among our forces."