Mattis' Visit to China: Agree to Disagree?
The U.S. secretary of defense brings a dose of "reality" to the U.S.-China military relationship.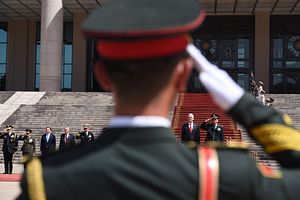 From June 26 to 28, U.S. Secretary of Defense James Mattis was in Beijing, his first visit to China since assuming his post nearly a year and a half ago. The visit came amid growing tensions in the U.S.-China relationship, particularly when it comes to trade but also in the security sphere. With last year's U.S. National Security Strategy having labeled China a strategic competitor and a revisionist power, U.S. officials have been increasingly willing to criticize China for perceived bad behavior – including by disinviting China from this year's Rim of the Pacific (RIMPAC) military exercises.
While in Beijing, Mattis met with Chinese President Xi Jinping, who is also the chairman of China's Central Military Commission (CMC), as well as with CMC Vice Chairman Xu Qiliang and Chinese Minister of Defense Wei Fenghe. Mattis also met with Yang Jiechi, China's top-ranked diplomat, who is seen as a trouble-shooter on tricky international issues.
Official readouts of the meetings were resolutely positive. Mattis' visit "achieved positive, constructive results," said Chinese defense ministry spokesperson Wu Qian, who also confirmed that Wei had accepted Mattis' invitation to pay a reciprocal visit to the United States at an unspecified date. Wu repeated the oft-heard Chinese formulation that the United States and China's common interests are "far greater than" their differences.
And in Xi's meeting with Mattis, the Chinese commander-in-chief reiterated common formulations about the crucial nature of U.S.-China relations, including calling the relationship "one of the most important bilateral ties in the world."
Wu said Mattis and his Chinese interlocutors had reached "important consensus" on pushing forward mutual understanding between their militaries, deepening practical cooperation, and controlling risks and challenges. That's a lot of vague restatements of broad platitudes, and thus a hint that there was little real progress made.
Meanwhile, the Pentagon's readout of the meeting between Mattis and his Chinese counterpart said that "Secretary Mattis and General Wei openly and candidly discussed a broad range of issues important to the U.S.-China relationship." It's an old joke that "open" and "candid" in diplomatic parlance translates to "testy."
Indeed, Wu's summary of the topics under discussion during Mattis' trip included the major friction points in U.S.-China security relations: the Korean Peninsula, Taiwan, and maritime security. From media reports, it appears that China focused most of its attention on Taiwan, while the United States wanted to talk about Chinese militarization in the South China Sea.
Bill Gertz of the Free Beacon cites a U.S. official who said Mattis brought up concerns with Chinese behavior in the South China Sea. "The secretary raised directly President Xi's previous comment to Obama about not militarizing [the Spratly Island group], and again that was in the context of 'You're behaving in ways that cause concerns not only to us but to regional partners,'" the unnamed official told Gertz.
Xi, unsurprisingly, was not swayed. A robust reminder of China's attitude toward on territorial disputes even made it into the official press summary in Xinhua of his meeting with Mattis: "Our stance is steadfast and clear-cut when it comes to China's sovereignty and territorial integrity… any inch of territory passed down from ancestors can not be lost while we want nothing from others."
That warning, in China's mind, also applies to Taiwan, which Beijing considers part of its territory. U.S. support for Taiwan – particularly arms sales – has always been one of the top concerns in discussions between high-level defense officials. Expressing displeasure toward recent U.S. moves to bolster that relationship, including the recent passage of the Taiwan Travel Act, was high on the Chinese agenda.
In addition to these issue-specific concerns, as the meeting with Yang, who is a diplomat rather than military official, suggests, China is also worried about the U.S.-China relationship more broadly. The labeling of China as a competitor in the NSS is indicative of a general shift in how U.S. policymakers view the relationship. This transition predates the Trump administration – back in 2015, prominent China scholar David M. Lampton described the relationship as being at a "tipping point" – but it has gained steam since 2017. The current administration wants to push back forcefully against China on several fronts: from intellectual property theft and market access restrictions to the South China Sea and the Belt and Road Initiative.
From China's point of view, this is a worrying shift away from the foundation that has carried the relationship for over 45 years, since U.S. President Richard Nixon visited China in 1972. But, as the U.S. defense official told Gertz, Washington has a different perspective: "[F]rom the secretary's point of view this is where we start the conversation—we start it on [a] reality basis, not on wishful thinking."
Chinese government officials not not known to enjoy a cold, hard dose of reality, but that seems to be what Mattis had to offer during his trip.