US, South Korea Indefinitely Suspend Marine Exchange Exercises
The suspension follows the cancellation of this year's Ulchi-Freedom Guardian exercises.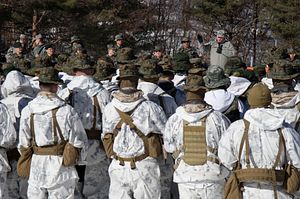 On Friday, the United States and South Korea announced that they had come to a joint alliance decision to indefinitely suspend two exchange training exercises. The announcement follows the alliance's earlier decision to suspend this year's planned iteration of the Ulchi-Freedom Guardian computerized military exercises.
The new suspensions are being linked to the outcomes of the June 12 summit meeting between U.S. President Donald J. Trump and North Korean leader Kim Jong Un.
Though their joint statement did not include any formal commitment by the United States to work to cease joint exercises with South Korea, which North Korea generally regards as provocative, Trump made an announcement that allied exercises would be called off after his meeting with Kim.
"To support implementing the outcomes of the Singapore Summit, and in coordination with our Republic of Korea ally, Secretary Mattis has indefinitely suspended select exercises," U.S. Department of Defense spokesperson Dana White said on Friday.
"This includes suspending FREEDOM GUARDIAN along with two Korean Marine Exchange Program (KMEP) training exercises scheduled to occur in the next three months," White added.
"In support of upcoming diplomatic negotiations led by Secretary Pompeo, additional decisions will depend upon the DPRK continuing to have productive negotiations in good faith," she added.
South Korea's defense ministry issued its own statement: "South Korea and the U.S. decided to delay two of KMEP [drills] indefinitely, which was going to take place within the next three months."
"This is a part of follow-up measures after the North Korea-U.S. summit and South Korea-North Korea summit. There could be additional measures should North Korea follow suit with productive cooperation."
The announcements come ahead of a planned trip by U.S. Secretary of Defense Jim Mattis to South Korea. The trip will be Mattis' first to South Korea and the region since the June 12 summit.
The decision to suspend the KMEP exercises suggests that ongoing moves by the alliance could come to affect exercises outside of the big three annual events, which generally include the springtime Key Resolve and Foal Eagle exercises and the late-summer Ulchi-Freedom Guardian exercises.
U.S. Secretary of State Mike Pompeo will meet with senior North Korean officials soon to see through implementation of the June 12 summit joint statement. A date has not been set, but the allied announcements on joint exercises are likely to demonstrate to North Korea that the United States intends to negotiate in good will.
The United States and South Korea have been allies for more than 60 years. Today, approximately 28,500 U.S. military personnel are stationed in South Korea.