The Stakes in Pakistan's Election: Civil-Military Relations and Beyond
Pakistanis gear up for a high-stakes election on Wednesday.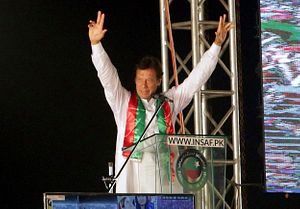 On Wednesday, Pakistan will hold general elections to determine who will form the country's next government. Five years ago, in 2013, the general elections marked the country's first-ever successful transfer of power from one democratically elected civilian government to another. This time, another such transition is likely, but that doesn't mean that Pakistan's democracy is in good health.
Pakistan's military-intelligence establishment—a powerful political force in its own right—has clashed, publicly at times, with the ruling Pakistan Muslim League-Nawaz (PML-N) government in recent years. The PML-N's former prime minister, Nawaz Sharif, now in prison, was disqualified from office by the Supreme Court. Sharif, whose disqualification marked a third incomplete nonconsecutive prime ministerial term, has a long history with the Pakistani military. He was ousted in a coup in 1999, pushed into exile in Saudi Arabia.
Heading into Wednesday, all signs in Pakistan point to a concerted effort by the military to deprive the PML-N of a clear path to power. Conventional wisdom in the lead-up to the election would suggest that Imran Khan, the cricketer-turned-firebrand populist leader of the Pakistan Tehreek-e-Insaaf (PTI) party, has been anointed by the military to take over as prime minister.
While there's evidence of a concerted top-down effort to suppress what remains of a free press in Pakistan, it's unclear how exactly the military will engineer a path to the prime ministership for Khan. The PTI's odds of an outright majority remain a long shot, meaning that should Khan triumph, it would be through a coalition arrangement. Pakistan's politics remain dominated by the traditional political strongholds of the PML-N and the Pakistan People's Party in Punjab and Sindh respectively.
As some commentators note too, Khan might not be the most desirable leader for the Pakistan military. He has staked out positions on India, Iran, and the United States that would leave the institutional interests of the Pakistani military in jeopardy. Of course, there may be a calculation that the gravity of the prime ministership would moderate Khan from his political rally persona and toward greater pragmatism, but that's far from guaranteed.
One of the more interesting outcomes to watch for on Wednesday is a scenario where none other than the PPP and its leader, Bilawal Bhutto Zardari, end up as the necessary ballast for a winning coalition. The PPP and Zardari have been something of an afterthought in much election commentary, with the upcoming struggle largely framed as one between an ascendant PTI and the old guard of the PML-N, but a winning coalition may be made or broken at the PPP's behest.
Whatever the outcome on Wednesday, it's likely that Pakistani politics will remain messy and civil-military relations will remain uneasy.