Are Fears of a Chinese Port Facility on Manus Island Justified?
Manus Island would be a strategic outpost for China, astride the western Pacific Ocean.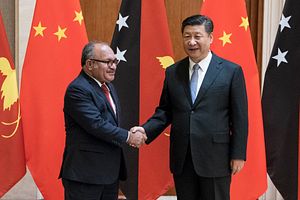 On Tuesday, The Australian reported growing concern that China may be courting Papua New Guinea to establish a strategic — potentially dual-use — port facility on Manus Island, the largest of the Admiralty Islands, located in the Western Pacific Ocean. "[The] plan on Manus Island, which lies off the north coast of the PNG mainland, is to build a large, multi-use port facility that will ultimately be capable of handling international maritime traffic," the report notes. The Manus Island port facility would be one among three other potential port refurbishment projects across the country.
The report of Chinese interest in a possible port facility on Manus Island isn't new and the scope of possible involvement by Chinese state-owned enterprises is unclear. But The Australian notes growing concern in Canberra at the prospect of a potential Chinese outpost on Manus Island. The report follows a similar one earlier this summer that China was exploring a similar facility on Vanuatu. (The Vanuatu government denied the report.)
It's certainly plausible that China might seek a facility at Manus Island. The island once served as a base for the U.S. Navy during the Second World War, owing primarily to its excellent location. It sits 1,700 kilometers south of the U.S. territory of Guam and would make an ideal logistics node for the Chinese People's Liberation Army-Navy (PLAN) as it seeks to sustain more frequent operations in the Western Pacific.
A recently released U.S. Department of Defense report on Chinese military modernization trends noted that the PLAN will "continue to extend its operations beyond the first island chain, demonstrating the capability to strike U.S. and allied forces and military bases in the western Pacific Ocean, including Guam." Manus Island could serve an important role in this eastward expansion into the western Pacific.
Chinese outreach to Papua New Guinea has grown in recent years. Earlier this year, in June, Papua New Guinea's prime minister, Peter O'Neill, visited China. O'Neill expressed interest in Chinese President Xi Jinping's signature Belt and Road Initiative. "That offers great potential for PNG, which means that it will help us integrate our own economy to the global economy," he said while in China.
"China is willing to work with Papua New Guinea to maintain the momentum of high-level exchanges and interactions at other levels, deepen mutually beneficial cooperation in all dimensions, and enhance communication and coordination in international and regional affairs so as to move forward the China-Papua New Guinea strategic partnership," a spokesperson for the Chinese Ministry of Foreign Affairs said during O'Neill's visit.
In July, the Chinese hospital ship Peace Ark made a port call at Port Moresby as the first stop on a multi-country tour to Pacific Island states and South America. During the Peace Ark's visit, Chinese People's Liberation Army-Navy personnel joined Papua New Guinea troops and civilians in emergency rescue exercises.
In December 2017, Papua New Guinea sent observers to the Cooperation Spirit 2017 humanitarian assistance and disaster relief tabletop exercises hosted by China in Nanjing. In October 2016, General Fang Fenghui, then the chief of the joint staff of the People's Liberation Army and a member of the Central Military Commission, visited Papua New Guinea.
With O'Neill's visit still recent, what'll be worth watching for is any major announcements of China-backed port projects in Papua New Guinea. For now, there's no imminent indication that Papua New Guinea is poised to offer up a major contract to China, but Manus Island's strategic location and growing China-Papua New Guinea ties leave the prospect open.