Japan Launches New Guided Missile Destroyer Capable of Ballistic Missile Defense
Japan Marine United launched the first of two improved guided missile destroyers earlier this week.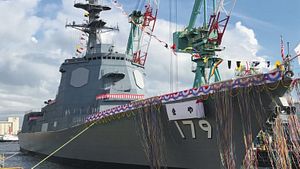 Japanese ship maker Japan Marine United (JMU) Corporation launched the first of two Improved Atago-class (aka 27DD- or 27DDG-class) guided missile destroyers on order for the Japan Maritime Self-Defense Force (JMSDF) at its facility in Yokohama on July 30, the Japanese Ministry of Defense (MoD) said in a statement.
The new and improved 8,200-ton Atago-class destroyer, christened Maya (PN 179), will be the seventh JMSDF surface warship to be equipped with the Aegis combat system, an automated command-and-control (C2) and weapons control system that enables improved Atago-class destroyers to attack and defend against land targets, submarines, surface warships, as well as ballistic and cruise missiles.
The future JS Maya, which cost about $1.5 billion to build, will be fitted with the Aegis Baseline J7 combat system and the Northrop Grumman AN/SPQ-9B radar system capable of detecting and tracking low-flying, supersonic, low observable anti-ship missiles. The Aegis Baseline J7 combat system is the Japanese equivalent to the U.S. Navy's Baseline 9/BMD 5.1 standard Aegis combat system.
The heart of the Aegis combat system constitutes the AN/SPY-1D an automatic detect and track, multi-function phased-array radar system. "This high-powered radar is able to perform search, track, and missile guidance functions simultaneously, with a track capacity of more than 100 targets," according to the U.S. Navy. "When paired with the MK 41 Vertical Launching System, it is capable of delivering missiles for every mission and threat environment in naval warfare," Lockheed Martin claims.
The Aegis Baseline 9/BMD 5.1, jointly funded by the U.S. and Japanese governments, has been specifically designed for ballistic missile defense and can engage in simultaneous air and ballistic missile defense. The U.S. Naval Sea Systems Command awarded Lockheed Martin a $135.8 million contract for work on the development and integration of the Aegis Baseline 9 systems for the improved Atago-class of guided missile destroyers in December 2017.
Earlier that year in February, the United States and Japan successfully tested the Aegis Baseline 9/BMD combat system with a Standard Missile-3 (SM-3) Block IIA missile, the most advanced version of the SM-3 "hit-to-kill" interceptor, successfully destroying an incoming ballistic missile target in midcourse. The SM-3 interceptor is designed to destroy short- to intermediate-range ballistic missiles.
Another test of the Aegis Baseline 9 combat system in August 2017 involved a Standard Missile-6 (SM-6) intercepting a medium-range ballistic missile target at sea in its final seconds of flight. The main objective of the test firing was test to a new targeting software that enables the SM-6 to intercept a ballistic missile descending from the upper atmosphere at extreme speed.
While, the new improved Atago-class will be armed with the SM-3 Block IIA, which has been under joint development by U.S. defense contractor Raytheon and Japan's Mitsubishi Heavy Industries since 2006, but not the SM-6 for budgetary reasons. As I reported yesterday, Japan's Aegis Ashore batteries will also likely not be equipped with the SM-6 interceptors for the same reason.
Next to the SM-3 (and once operational the SM-3 Block IIA), the new improved Atago-class will carry the RIM-66 Standard Missile-2(SM-2) surface-to-air missiles and the RIM-162 Evolved Sea Sparrow Missile (ESSM). All these missiles can be fired from the Maya's 96 Mk 41 vertical launch system cells.
Like Australia's new Hobart-class of Air Warfare destroyers, the improved Atago-class will also be fitted with the so-called cooperative engagement capability (CEC), "a new wide-area integrated air defense system, which permits the real-time sharing of sensor data on air targets, including incoming enemy aircraft and cruise missiles, among CEC-equipped ships," as I explained yesterday. The ship also boasts multifunction towed array (MFTA) sonar systems and electronic warfare (EW) capabilities.
The Maya will be the seventh of Japan's eight anticipated Aegis destroyers to be put into service with the JMSDF in the next three years. The improved Atago-class is based on the JMSDFs older Kongō-class which in turn is a derivative of the U.S. Navy's Arleigh Burke-class of guided missile destroyers. Powered,  by an improved combined diesel-electric and gas, or CODLAG, propulsion system, the ship has a crew of about 300 and can reach a top speed of up to 30 knots.
The Maya's still to be named sister ship is expected to be commissioned in March 2021.