Leadership Turmoil Rocks Australia
Prime Minister Malcolm Turnbull barely survives a leadership challenge from within his party.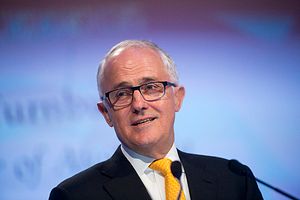 August 24 update: Australia has its sixth prime minister since 2007 after a tumultuous week in politics Down Under. 
Scott Morrison became the nation's 30th prime minister Friday after defeating Peter Dutton by 45 votes to 40 in an internal Liberal Party ballot that followed the resignation of former Prime Minister Malcolm Turnbull. Another challenger, former Foreign Minister Julie Bishop, was knocked out in the first round of voting.
Josh Frydenberg was elected deputy Liberal leader, replacing Bishop, and was named treasurer by the new prime minister.
The high noon leadership shootout was the second party spill in a week. It came after Turnbull had demanded party rebels present him with a signed petition from 43 lawmakers requesting the vote, and after a public display of loyalty from former Treasurer Morrison toward his leader.
Turnbull is set to give his new leader an early political test, however. The former investment banker and lawyer said he would quit politics. "I believe former prime ministers are best out of the Parliament," Turnbull said, "and I don't think there's much evidence to suggest that that conclusion is incorrect" — a reference to former leader and fierce rival Tony Abbott, whom Turnbull himself overthrew in 2015.
Leadership tensions have rocked Australian politics again, with Australian Prime Minister Malcolm Turnbull barely surviving a challenge from internal rival Peter Dutton. With nearly six prime ministers in eight years, why is the previously stable "Lucky Country" suddenly so politically treacherous?
Canberra's chilly winter has been blowing an ill wind for Turnbull's leadership, after the latest Fairfax-Ipsos poll showed his center-right Liberal-National Coalition government trailing rival center-left Labor by 45 to 55 percent in two-party terms.
A similar result in a general election, due by May 2019, would see the Coalition lose more than 20 lawmakers and result in Opposition Leader Bill Shorten winning office.
Since the ousting former Prime Minister Tony Abbott in September 2015, Turnbull has lost 38 consecutive Newspolls to Labor, despite citing such unpopularity as one of the key reasons for his act of political expediency.
As then noted by The Diplomat, "Turnbull cited as reasons for his challenge Abbott's inability to provide economic leadership, his 'captain's picks' – such as awarding a knighthood to Britain's Prince Philip – and the government's deepening unpopularity with voters, having lost '30 Newspolls in a row.'"
Ironically, Turnbull has since exceeded Abbott's poor Newspoll record, despite having consistently rated as more popular as prime minister compared to Shorten. In the latest Fairfax-Ipsos poll, Turnbull rated at 48 percent compared to 36 percent for Shorten.
A stymied effort to cut corporate taxes, a citizenship crisis that cost a number of lawmakers their seats, and his perceived arrogance as the so-called "Mr. Harborside Mansion" of Sydney have all weighed on Turnbull's popularity with voters.
Liberal members see Turnbull as "the best Labor leader the Liberals ever had," criticizing his push for same-sex marriage, his support for an Australian republic, and other causes favored by Labor and other left-wing parties.
Poor results in recent by-elections caused by the citizenship crisis also rocked Turnbull's leadership, with the Coalition fearing a "wipe out" in the politically important state of Queensland, Dutton's home state.
However, it has been the issue of power prices that has hit a particularly raw nerve with Coalition lawmakers. Turnbull's pledge to implement a national energy guarantee (NEG), despite being backed by big business and much of the media, faced internal opposition from Liberal lawmakers concerned about the government committing to emissions reductions targets ahead of lower prices.
Rumors of a leadership spill were already circulating over the weekend. Then Home Affairs Minister Dutton was revealed as the conservative challenger, backed by Abbott and others as the best hope of retaining office in the 2019 poll.
Turnbull's belated effort Monday to shelve indefinitely an emissions reduction target for the NEG failed to placate the rebels, who smelled political blood.
While Turnbull shrugged off the leadership tensions, they were brought to a head Tuesday morning Australian time when Turnbull called a leadership poll. While he won the vote 48 to 35, speculation of another challenge only intensified.
"It's over for him, give it two weeks," a Dutton supporter told the Australian Financial Review.
According to the financial daily, Dutton has started mapping out a policy agenda including immigration curbs, cheaper energy, and greater spending on health, education, aged care, and agriculture.
"We know that instability undermines the ability of any government to get anything done. Unity is critical," Turnbull pleaded Tuesday.
However, with the Coalition likely to face a further deterioration in its electoral standing, the mood for change in the Coalition will likely spark another challenge by Dutton that could topple yet another elected leader.
Political Roundabout
Australia's recent political roundabout is highlighted by the fact that it has changed leaders five times since 2007, with none lasting a full term in office.
Labor's Julia Gillard ousted Kevin Rudd in June 2010, before Rudd returned the favor three years later. Turnbull's move to oust his predecessor occurred just two years after Abbott had been won a general election against Rudd.
The backstabbing followed a period of political stability, with former Prime Minister John Howard enjoying nearly 12 years in office, coming after a five-year stint for Labor's Paul Keating and eight years previously for Bob Hawke.
Like his predecessors, Turnbull won a general election – albeit by just a single seat – but electoral success appears to be no barrier to prospective rivals.
Yet with Australia currently enjoying a record 27th straight year of economic expansion, with low unemployment, low crime and high personal wealth, why has politics Down Under become so turbulent?
Former Liberal leader and Australian Foreign Minister Alexander Downer has blamed "hysterical" political commentary for the sudden bout of Italian-style turmoil.
"Australia's well run, it's going well but its politics – including the reporting of politics – is close to hysterical. People are a 'disgrace' or 'appalling,' they're 'totally incompetent' and so it goes on," he wrote in the Australian Financial Review.
"On the basis of what we know, the Liberal Party should be able to win the election: the economy is going well, the country's at peace and urgent social and environmental issues are being addressed," he argued.
"But to win an election in a Western democracy requires more than good economic data. There's very little truth in the Clintonian slogan 'It's the economy, stupid.' People don't vote for statistics. They vote based on how they feel."
Downer said the Liberals must "develop an inspiring story about where they're going to take the country," while also running a "fierce negative campaign" against their opponents.
However, other analysts point to lackluster wages growth, skyrocketing property prices in the biggest two cities of Sydney and Melbourne, and record high household debt as contributing to growing political discontent, particularly with house prices starting to cool.
Nevertheless, Labor's Shorten is seen as the big winner from the Liberals' infighting.
"The ability of this government to produce meaningful policy positions has been greatly compromised because the authority of the prime minister has been severely weakened," Martin Drum, a senior political lecturer at Notre Dame University, told Bloomberg News. "Shorten is a winner from this. Labor will do well in the next polls."
Commenting on the day's events, Shorten said: "Australia has a prime minister in name only — without power, without policies. If nearly half of his own government do not want him to be the prime minister, why should the rest of Australia have to put up with him?"
Australia's financial markets reacted negatively to the political tensions, with stocks falling to their lowest close in five months.
Economists have warned against any major change to immigration policy – as flagged by Dutton – as worsening the growth outlook, while any prospect of an interest rate increase likely now will be placed on hold.
Shorten's Labor have campaigned against corporate tax cuts and have also threatened to tighten housing incentives for investors, a measure seen further dampening property prices.
"If Labor does get in, then that would change the economic outlook. The tax system would be less favorable and the housing market would certainly be in the firing line," Capital Economics' Paul Dales said.
Can Turnbull restore his authority and win the unwinnable election? Or will Dutton challenge successfully and give the Coalition a new leader to fight Labor?
Regardless of the outcome, Australia is set for more political instability ahead as Canberra's power games play out, giving both voters and investors more reason for worry.