Lockheed Martin to Build F-16 Wings in India
Lockheed Martin announced that it will build all future F-16 wings with a local partner.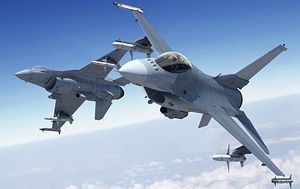 U.S. defense contractor Lockheed Martin announced on September 4 that all future F-16 wings will be built in India by its local partner, Tata Advanced Systems Limited. "Producing F-16 wings in India will strengthen Lockheed Martin' strategic partnership with Tata and support Make in India," the company said in a statement.
The wings for Lockheed Martin's F-16 Block 70 fighter jet are currently being produced at a facility in Israel. Production is slated to move the Indian city of Hyderabad in 2020. "All F-16 wings globally are to be built in the Hyderabad facility," a Lockheed Martin representative was quoted by Reuters as saying on September 4.
The announcement by the company occurred two days ahead of the first ever so-called "two-plus-two" meeting between U.S. Secretary of Defense Jim Mattis, U.S. Secretary of State Mike Pompeo, Indian Minister of External Affairs Sushma Swaraj, and Indian Minister of Defense Nirmala Sitharaman in New Delhi on September 6.
The principal subject of discussion will be deepening defense and strategic cooperation between India and the United States. The U.S. Department of Commerce designated India a Strategic Trade Authorization Tier 1 country in August, which grants New Delhi access to a wider range of U.S. defense products and builds on the 2016 designation of India as a U.S. Major Defense Partner.
Lockheed Martin's announcement is not surprising. Lockheed Martin and Tata Advanced Systems Limited concluded an agreement in June 2017 that affirms the companies' intent to set up a joint production facility for F-16 Block 70 fighter jets in India should the Indian Ministry of Defense (MoD) select the aircraft for the Indian Air Force (IAF).
"The F-16 Block 70 is ideally suited to meet the Indian Air Force's single-engine fighter needs and this unmatched U.S.-Indian industry partnership directly supports India's initiative to develop private aerospace and defense manufacturing capacity in India," a Lockheed Martin statement from June 2017 reads.
As I reported elsewhere, the IAF issued a long-awaited request for information (RFI) to global vendors for the procurement of 110 fighter aircraft in April 2018.
"The tender will be open for single-engine and twin-engine fighter jets. According to the RFI, the IAF is seeking to procure 82-83 (75 percent) single-seat fighter jets and 27-28 twin-seat variants (25 percent)," I explained. "Out of the 110 aircraft, 16-17 (15 percent) are to be bought in fly-away condition, whereas the rest are to be built in India under the framework of the Indian Ministry of Defense (MoD) Defense Procurement Procedure 2016 to facilitate the manufacturing of military hardware locally."
Next to Lockheed Martin, Swedish aircraft maker Saab, French defense firm Dassault Aviation, and the Eurofighter consortium will participate in the tender. Boeing and Saab both announced that they would set up a production facility in India should their respective aircraft — the F/A-18 Super Hornet and Gripen-E aircraft — be selected by the Indian MoD.