Taiwan's Indigenous Submarine to Be Based on European Design
Taiwan's future diesel-electric attack submarine fleet will be based on European design, according to local media reports.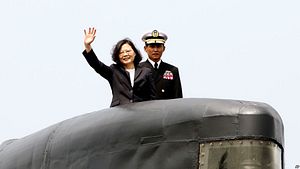 The Republic of China Navy's (ROCN) future fleet of domestically-designed and produced diesel-electric attack submarines (SSK) will be based on a European design, according to local media reports.
Taiwan's Ministry of Defense (MoD) in consultation with U.S. defense contractors have evaluated design proposals from six companies including two European and two U.S. companies, as well as an Indian firm and a Japanese defense contractor.
The MoD apparently selected a European defense contractor to supply the design for the conventionally powered attack submarine.
Taiwan has not revealed the names of the European companies that supplied design proposals, although there is some speculation that the new submarine design will be based on French shipbuilder Direction des Constructions Navales Services' (DCNS) Scorpene-class of diesel-electric attack subs.
Another possible contender could be Howaldtswerke-Deutsche Werft (HDW), headquartered in Kiel, Gemany, which produces the Type 214 SSK, an export variant of the HDW Type 212 fitted with with an air-independent propulsion (AIP) system.
Both European companies already have a strong presence in Asia. The Republic of Korea Navy and Indonesian Navy are currently operating license-built HDW SSKs variants, while the Indian Navy is in the process of inducting six DCNS Scorpene-class subs into service.
Preliminary design work for Taiwan's so-called Indigenous Defense Submarine (IDS) program, which was kicked off in December 2014, is expected to be completed by the end of 2018 with the detailed design phase slated to commence in March 2019.
According to local media reports, the boats will be assembled using Japanese construction techniques. A Japanese team consisting of retired engineers from Mitsubishi and Kawasaki Heavy Industries has been supporting the Taiwanese government as technical consultants since the early days of the IDS program.
U.S. defense contractor Lockheed Martin will serve as systems integrator and reportedly also supply the subs' combat management system. (Earlier reports indicated that U.S. defense contractor General Dynamics also offered its AN/BYG-1 submarine combat management system.)
As I reported previously, the U.S. Department of State has approved licenses for U.S. defense firms to sell U.S.-made submarine technology to Taiwan in April 2018 making collaboration between U.S. defense firms and the Taiwanese government on submarine construction possible. As I reported in March 2017, the IDS program is divided up into two phases:
The first phase consists of completing design work on Taiwan's new class of attack subs for which the government allocated approximately NT$2 billion ($65.66 million). The second stage entails the construction of the new boats with the ambitious goal of finishing construction in eight years and commissioning the subs into service with the ROCN within a decade. (Each sub could cost as much as $1 billion, according to The Diplomat estimates.)
Construction of the first SSK is expected to kick off in 2020. The aim is to build a fleet of eight SSKs with the first boat entering sea-trials by 2024 followed by its first operational deployment in 2026.