Taiwan Unveils Model of Indigenously-Designed Diesel-Electric Attack Submarine
The model was revealed on May 9 during a groundbreaking ceremony for a submarine shipyard in the southern port city of Kaohsiung.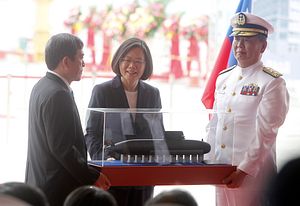 Taiwan has revealed a miniature model of the country's first domestically-designed and produced diesel-electric attack submarine (SSK) during a groundbreaking ceremony on May 9 for a new shipyard to construct and repair the Republic of China Navy's (ROCNs) new submarine force in the southern port city of Kaohsiung.
Speaking during the groundbreaking ceremony, Taiwan's President Tsai Ing-wen stressed the importance of submarines in the country's defense strategy. "Submarines not only can build up our asymmetrical power, but also will more effectively deter patrols of the enemy ships," she was quoted as saying.
The shipyard will likely take a year to build.
Notably, the model features an X-form rudder system. Mike Chou, the executive vice president and director of China Shipbuilding Corporation's (CSBC) submarine development center — the country's main ship-building company — declined to confirm local media reports that the design is modeled on Japan's Soryu– and Oyashio-class SSKs.
Taiwan's Ministry of Defense (MoD) in consultation with U.S. defense consultants have been evaluating design proposals from six foreign shipbuilders including two European and two U.S. companies, as well as an Indian firm and a Japanese firm. According to local media reports, the MoD selected a European company to supply the design for the new ROCN SSK fleet. As I noted back in September:
[T]he boats will be assembled using Japanese construction techniques. A Japanese team consisting of retired engineers from Mitsubishi and Kawasaki Heavy Industries has been supporting the Taiwanese government as technical consultants since the early days of the IDS program.

U.S. defense contractor Lockheed Martin will serve as systems integrator and reportedly also supply the subs' combat management system. (Earlier reports indicated that U.S. defense contractor General Dynamics also offered its AN/BYG-1 submarine combat management system.)
The U.S. Department of State approved licenses for U.S. defense firms to sell U.S.-made submarine technology to Taiwan in April 2018 enabling closer collaboration between the U.S. and Taiwan on submarine construction.  As I reported in March 2017, the IDS program is divided up into two phases:
The first phase consists of completing design work on Taiwan's new class of attack subs for which the government allocated approximately NT$2 billion ($65.66 million). The second stage entails the construction of the new boats with the ambitious goal of finishing construction in eight years and commissioning the subs into service with the ROCN within a decade. (Each sub could cost as much as $1 billion, according to The Diplomat estimates.)
The ROCN aims to deploy a fleet of eight new SSKs. Construction of the first-of-class boat is expected to begin at the end of 2020 or early 2021 with the first operational deployment tentatively scheduled for 2026.