US State Department Approves Sale of 9 E-2D Advanced Hawkeye Aircraft to Japan
The total contract value for the nine Airborne Early Warning and Control aircraft is estimated at around $3.135 billion.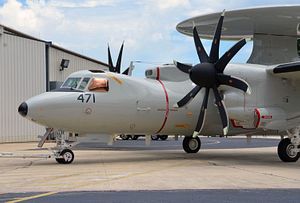 The U.S. Department of State today approved the possible sale of nine E-2D Advanced Hawkeye (AHE) Airborne Early Warning and Control (AEW&C) aircraft to Japan for an estimated cost of $3.135 billion, the Pentagon's Defense Security Cooperation Agency (DSCA) said in a statement.
Northrop Grumman's twin-turboprop E-2D Advanced Hawkeye aircraft is one of the most advanced carrier-capable tactical airborne early warning aircraft in the world. The latest variant, E2-D, is fitted with a AN/APY-9 radar, an ultra-high frequency hybrid mechanical/electronically scanned radar system with a 360-degree coverage capability.
According to Northrop Grumman, the E-2D is capable of detecting a ground-to-air cruise missile launch and low-observable aircraft. The aircraft was originally designed to help defend aircraft carrier strike groups against any type of long-range aerial threats. Each U.S. Navy carrier strike group deploys four E-2C or E-2D Advanced Hawkeye aircraft.
"Advanced Hawkeye is the cornerstone of the U.S. Navy's theater air and missile defense architecture in the littorals, overland, and open sea," according to Northrop Grumman.
Notably unlike U.S. Navy E-2Ds, Japanese E-2D aircraft will not be equipped with the so-called cooperative engagement capability (CEC), a real-time "sensor-netting" system, which allows "the real-time sharing of sensor data on air targets, including incoming enemy aircraft and cruise missiles, among CEC-equipped units," as I noted elsewhere.
(The Japan Maritime Self Defense Force's two improved Atago-class guided missile destroyers will reportedly be equipped with CEC enhancing the ships' ballistic missile defense capabilities.)
The Japan Air Self Defense Force (JASDF) will also base its aircraft on land allowing it to take off with extra fuel, which will allow the service to operate the aircraft for up to 8 hours, instead of a standard 5 hours (without refueling).
The JASDF currently operates 13 older E-2C Hawkeyes and four E-767 aircraft as part of its Airborne Early Warning Wing. The JASDF is also expected to receive the first of four E-2D Advanced Hawkeyes ordered in 2015 for an estimated cost of $ 1.7 billion late next year.
The first of the four  Japanese E-2Ds is currently undergoing flight tests at Northrop Grumman's test center in St. Augustine, Florida. The aircraft took to the skies for the first time in October 2017. Japan's Ministry of Defense (MoD) selected the E-2D Advanced Hawkeye in 2014 to boost the Japanese military's AEW&C capabilities.
The new order will bring the total number of E-2Ds ordered for the JASDF to 13. Once deployed, some of the aircraft will be stationed at Misawa Air Base in Aomori Prefecture in the northernmost part of Honshu.
"The proposed sale of E-2D AHE aircraft will improve Japan's ability to effectively provide homeland defense utilizing an AEW&C capability," DSCA said in a statement on September 10. "Japan will use the E-2D AHE aircraft to provide AEW&C situational awareness of air and naval activity in the Pacific region and augment its existing E-2C Hawkeye AEW&C fleet."