AN/SPY-6 Ballistic Missile Defense Radar Successfully Tracks Multiple Targets Through Intercept
The SPY-6 continues to see testing and development.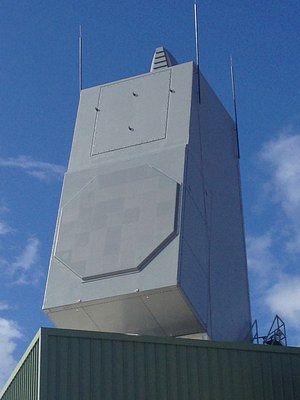 Raytheon's new air and missile defense radar, the AN/SPY-6(V), cleared a new ballistic missile target tracking test last week. According to an announcement by the company, the AN/SPY-6(V) "detected, acquired and tracked multiple targets from the U.S. Navy's Pacific Missile Range Facility, Kauai, Hawaii."
"Capitalizing on two unrelated exercises conducted nearby in mid-September, SPY-6(V) not only tracked multiple threats simultaneously but also a ballistic missile – through intercept, for the first time," Raytheon's statement noted.
The U.S. Missile Defense Agency (MDA) did not release a statement on the testing, suggesting that the AN/SPY-6(V) was likely not involved in enabling a ballistic missile interception itself. Raytheon did not clarify which exact intercept tests the SPY-6 was involved in tracking, but the reference to tracking through intercept suggests at least one may have been the recent U.S.-Japan test of an upgraded SM-3 Block IB interceptor off Hawaii in September. That test resulted in a successful interception.
"This successful test is a major milestone verifying the capabilities of an upgraded Aegis BMD configuration for Japan's destroyers," MDA Director Lieutenant General Sam Greaves said at the time. "This success provides confidence in the future capability for Japan to defeat the developing threats in the region."
The test marked a first in the development of the AN/SPY-6(V), which is a generational improvement over existing ballistic missile tracking radars, including the AN/SPY-1D(V), along several measures, including range and sensitivity. The AN/SPY-6 is designed as an integrated air and missile defense (IAMD) radar. With one physical face, it is built to detect threats at a long range using active electronically scanned array (AESA) antennas.
"AN/SPY-6(V) continues to impress through consistent performance against complex, surrogate threats," said U.S. Navy Captain Seiko Okano, the Major Program Manager for Above Water Sensors at the Program Executive Office for Integrated Warfare Systems.
"With production now underway, we're progressing – with confidence – toward delivery of this exceptional, game-changing radar, which will transform our naval capabilities for decades to come."
The AN/SPY-6 unit used in the test was likely the same one delivered in 2016 to the U.S. Navy's Pacific Missile Range Facility. That unit was delivered and installed in June 2016 after undergoing preliminary testing in Massachusetts.
The AN/SPY-6 is expected to undergo further development and testing, with plans to eventually integrate it as the next-generation radar for Aegis ballistic missile defense (BMD) on U.S. Navy guided missile destroyers.
The radar will work with the Standard Missile-3 (SM-3) Block IA/IB and Block IIA when deployed as well as the Standard Missile-6 (SM-6).