US Sheds Light on Sanctions-Busting North Korean Ship-to-Ship Transfer Activity
Washington casts a spotlight on North Korea's continued sanctions evasion attempts.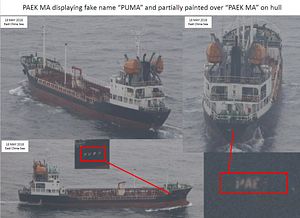 Last week, the U.S. Department of State released a series of images showing evidence of illicit ship-to-ship (STS) transfers of commodities to vessels linked to North Korea in violation of United Nations Security Council (UNSC) sanctions.
The releases were intended to complement the announcement earlier this year by the UNSC resolution 1718 committee on the designation of three ships for engaging in STS transfers. The Shang Yuan Bao, New Regent, and Kum Un San 3 were designated on October 16 for violating sanctions.
"North Korea continues regularly to employ deceptive tactics to evade UN sanctions," a statement released by the State Department on October 26 noted. "North Korea's illicit imports of refined petroleum have substantially breached the UN sanctions cap on refined petroleum by making illicit transfers, and we urge that Member States immediately end all sales of refined petroleum to North Korea," it added.
On Twitter, the State Department's bureau of International Security and Nonproliferation (ISN) publicized evidence of the transfers, tying designated and undesignated ships alike to illicit STS activity.
Of the three vessels designated by the 1718 Committee, the Kum Un San 3 was North Korea-flagged while the other two vessels bore Panamaian flags. As a result of their listing, the vessels will be barred from receiving port facility access from UN member states.
The designations were "necessary as North Korea's illicit shipping activities continue, despite UN prohibitions on ship-to-ship transfers of any goods or items to or from North Korean vessels of any goods or items going to or coming from North Korea," the State Department noted.
The U.S. decision to publicize the transfer activity is not a first. The U.S. Treasury Department made evidence of such transfers public last year as well. However, the new ICN disclosures contain more photographs than previously released in a single U.S. statement.
One image, for instance, shows the Shang Yuan Bao transferring what is likely petroleum via hoses to a North Korean vessels. The image is dated to June 2, 2018. Another image, from May 2018, taken from a surface surveillance ship, shows hoses connected between the Shang Yuan Bao and another vessel, the Paek Ma. Both of these images appear to use shortwave infrared cameras to highlight activity at nighttime.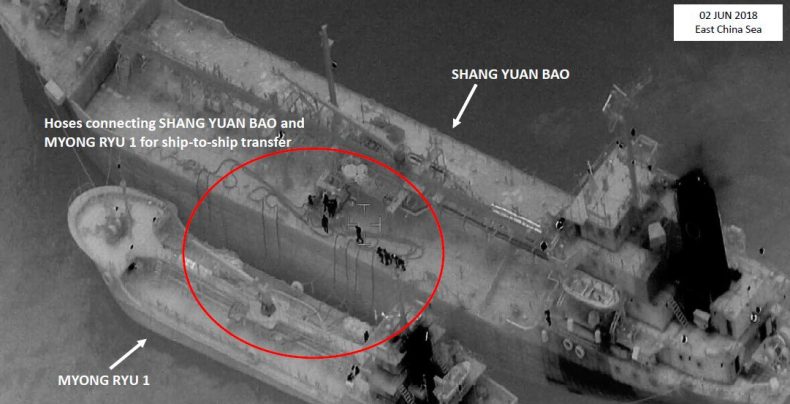 Yet another image released by the ISN bureau shows the New Regent alongside the Kum Un San 3 in daylight on June 7, 2018. The annotation highlights hoses connected between the two ships, facilitating an STS transfer.
STS transfers for goods to North Korea are illegal under UNSC resolutions 2375 and 2397, which were passed last year in response to North Korea's sixth nuclear test and final intercontinental-range ballistic missile test of 2017, respectively.
Paragraph 11 of resolution 2375 notes that all UN member states "shall prohibit their nationals, persons subject to their jurisdiction, entities incorporated in their territory or subject to their jurisdiction, and vessels flying their flag, from facilitating or engaging in ship-to-ship transfers to or from DPRK-flagged vessels of any goods or items that are being supplied, sold, or transferred to or from the DPRK." (DPRK is shorthand for North Korea's formal name, the Democratic People's Republic of Korea.)
Paragraph nine of Resolution 2397, which called for maritime interdiction of cargo vessels facilitating North Korea's sanctions evasion, noted that "the DPRK is illicitly exporting coal and other prohibited items through deceptive maritime practices and obtaining petroleum illegally through ship-to-ship transfers." The resolution called on UN member states to "seize, inspect, and freeze" any vessels involved in illicit STS transfers.
The U.S. effort to shed light on these practices comes as the United States and North Korea work toward a second leaders-level summit meeting to follow up on the June 2018 meeting in Singapore between U.S. President Donald J. Trump and North Korean leader Kim Jong Un.