Will India Procure Russia's T-14 Armata Main Battle Tank?
Russia's "Armata" universal chassis system is likely to figure in discussions between the Indian and Russian military this week.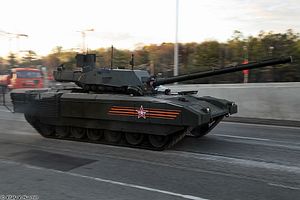 The Russian-made "Armata" universal chassis system will be subject of discussion during a six-day bilateral visit to Russia by Indian Army Chief General Bipin Rawat that will include meetings with Russia's senior military leadership and visits to key military formations and establishments, according to local media reports.
The Indian Army chief's visit, which kicked off on October 1, includes tours of the Mikhailovskaya Artillery Military Academy, the Headquarters of Western Military District in St. Petersburg and General Staff Academy. "The visit is yet another milestone in giving impetus to the strategic partnership between India and Russia and taking forward the military to military cooperation to the next level," the Indian Ministry of Defense (MoD) said in a statement.
According to Indian defense sources, bilateral meetings between the Indian and Russian top brasses will also include discussions of Russia's "Armata" universal chassis system, which serves as a platform for over a dozen different tracked vehicles, including a self-propelled artillery howitzer, an armored military engineering vehicle, as well as the T-15 heavy infantry fighting vehicle (IFV) and the T-14 Armata main battle tank (MBT).
This is unsurprising as the Indian Army is looking to procure and locally manufacture up to 1,770 armored fighting vehicles in the 2020s. The Indian MoD has issued a global request for information (RFI) in November 2017 to develop and these multipurpose future ready combat vehicles (FRCV), to replace the Indian Army's aging tank force, principally consisting of T-72 MBTs and Soviet-era IFVs and armored personnel carriers. So far, however, no request for proposal (RFP), the next stage in India's defense procurement process, has been issued by the MoD.
Without the RFP it is impossible to establish a concrete list of bidders countries and defense contractors. Besides Russia, likely contenders may include Ukraine with its T-84 'Oplot-M' MBT and South Korea's Hyundai Rotem K2 (Black Panther).
Neither the Indian Army nor MoD have publicly confirmed that the T-14 MBT or other "Armata" platforms were or will be subject of discussion during the Indian Army chief's ongoing visit to Russia. Notably, the Indian general's visit coincides with  a summit meeting between Indian Prime Minister Narendra Modi and Russian President Vladimir Putin on October 5, where they are expected to preside over the signing of a $5.5 billion deal for five regiments of Russian-made S-400 Triumf air defense systems for the Indian military.
As I reported previously, the United States has threatened to impose economic sanctions on India under the Countering America's Adversaries Through Sanctions Act (CAATSA) should New Delhi proceed with the induction of the Russian-made air defense systems. In September, the United States imposed sanctions on the People's Liberation Army's (PLA) Equipment Development Department (EDD) for the procurement of S-400 systems and Sukhoi Su-35S (NATO reporting name: Flanker-E) fourth generation, twin-engine, multirole fighter aircraft.
Nevertheless, there is the possibility that India will be issued a waiver as the U.S. National Defense Authorization Act (NDAA) grants the incumbent U.S. administration authority to waive mandatory sanctions under CAATSA in certain circumstances pertaining to Russian legacy systems that costs less than $15 million. However, neither the S-400 nor the "Armata" chassis system, including the T-14MBT, can be classified as such. The S-400 and T-14 are both considered to be among the most advanced Russian weapons platforms currently available.
Besides political considerations, given the current force structure and multi-year delays in ongoing efforts to modernize the Indian Army's armor force, a possible future induction of T-14 MBTs or other "Armata" platforms is a far-fetched scenario at best for the time being.