Indian Navy Boomer Completes 'First Deterrent Patrol'
India's first domestically built nuclear-powered ballistic missile sub has completed its first deterrent patrol.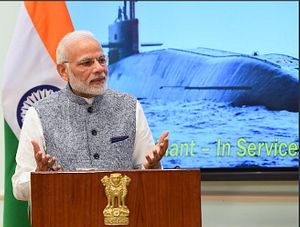 India's first domestically developed and built nuclear-powered ballistic missile submarine (SSBN), the INS Arihant, has completed its first deterrent patrol, Indian Prime Minister Narendra Modi announced on November 5.
"India's pride, nuclear submarine INS Arihant successfully completed its first deterrence patrol," the prime minister posted on social media. "I congratulate all those involved, especially the crew of INS Arihant for this accomplishment, which will always be remembered in our history."
Additionally, the Indian prime minister notes that this marks the establishment of country's nuclear triad — referring to the three ways that the Indian military can now deploy and fire nuclear missiles. India's nuclear triad now consists of land-launched nuclear missiles, nuclear-missile-armed submarines, and aircraft.
"India's nuclear triad will be an important pillar of global peace and stability," the prime minister added hailing it as a major achievement for the Indian nation. "In an era such as this, a credible nuclear deterrence is the need of the hour. The success of INS Arihant gives a fitting response to those who indulge in nuclear blackmail."
The latter reference is thought to be directed against Pakistan, which is also building up a sea-based nuclear deterrent.
The Indian government did not release any operational details concerning the Arihant's first deterrent patrol save that it lasted a little over a month. However, no information has been provided to date regarding the type of submarine-launched ballistic missiles (SLBM) carried and whether they were mated with nuclear warhead.
Notably, it is official Indian policy to keep nuclear warheads de-mated from actual missiles. One possibility is that the INS Arihant carried nuclear-armed SLBMs, most likely K-15 (B-05) short-range SLBMs last test fired in August 2018. It is unclear how the nuclear release chain of command will function for the Indian Navy's burgeoning boomer force.
Furthermore, it is also uncertain to what degree the Indian Navy has succeeded in establishing reliable and survivable communications, command, and control systems for its submarine force.
The INS Arihant is the lead boat of a fleet of four to five planned SSBNs destined for service in the Indian Navy. The sub, quietly commissioned in 2016, is based on the Russian Project 971 Akula I-class nuclear-powered attack submarine (SSN) and can carry up to 12 K-15s or four K-4, an intermediate-range, nuclear-capable SLBM with estimated ranges of 750 and 3,500 kilometers respectively.
India maintains nuclear warfare policy centered on a No First-Use (NFU) and "credible minimum deterrence" (perhaps slowly shifting to a "credible deterrence") doctrine, which requires an assured so-called second-strike capability. However, unlike the United States, Britain, and France, which maintain continuous SSBN patrol postures, India will likely rely on an occasional sea-based deterrent — at least for the time being given financial and technical constraints, but also due to land-based nuclear assets, which act as an effective deterrent.
What deterrent patrol posture the Indian Navy will ultimately assume, has not been made public. (To maintain a permanent sea-based deterrent at least two additional SSBNs will be needed.) One option for the service will be to conduct its patrols in "strategic bastions," heavily defended areas of water, relatively close to India where the boomer can be protected by other Indian Navy assets against enemy anti-submarine forces, which would make sense given the relatively vulnerability of the new boomer.
It goes without saying that today's news should be treated with caution. Not enough information has been made public to assess with confidence the precise nature of the alleged deterrent patrol. Notably, the INS Arihant principally serves as a training platform for future submarine crews and as a general technology demonstrator. It was not designed to conduct regular deterrent patrols and sustained major damage in 2017, which has kept it out of commission for most of 2017 and the first quarter of 2018.
Regular deterrent patrols are only likely to begin with the deployment of other boats of the class. The second Arihant-class SSBN, the future INS Arighat, was launched in November 2017. The boat is expected to be commissioned in 2020 or 2021. The sub will have eight missile tubes, twice the number installed on the Arihant.  It will also have a more powerful reactor and a slightly bigger overall displacement. It it also assumed to be quieter than the first-of-class boomer.