India's HAL to Double Annual Production Rate of Tejas Light Combat Aircraft From 8 to 16
Hindustan Aeronautics Limited is opening a new production facility in 2020 to double the production of Tejas LCA per annum.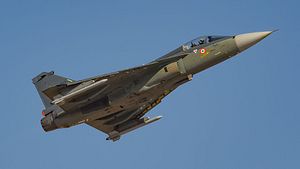 India's state-owned aircraft maker Hindustan Aeronautics Limited (HAL) will set up a new production facility at Nashik in Maharashtra by 2020 to increase its annual output of Tejas Light Combat Aircraft (LCA), the head of HAL told The Economic Times on November 2.
"We are setting up a new facility at Nashik to double the production of Tejas fighters to 16 from 8 per year," HAL Chairman and Managing Director, R. Madhavan, said.
Notably, HAL has so far failed to meet the eight aircraft per annum quota. The Indian Ministry of Defense (MOD) placed an initial order for 40 Tejas LCA Mark-I with HAL, of which 12 Tejas LCA in initial operational configuration have been delivery to the Indian Air Force to date.
The follow-on production of 20 more Tejas LCA is pending final operational clearance (FOC) of the fighter jet by the Indian Aeronautical Development Agency, expected to take occur in the coming months. In another step toward FOC, the Tejas for the first time conducted a hot refueling trial earlier this year. Tejas LCA also participated in the Indian Air Force's  Gaganshakti 2018 air combat exercise this summer, which involved 1,100 aircraft and 15,000 military personnel.
The Tejas LCA is a supersonic, single-seat, single-engine multirole light fighter aircraft that has been under development by the Aeronautical Development Agency in cooperation with HAL since the early 1980s. Given the drawn out development cycle, the IAF had to repeatedly revise its requirements for the fourth-generation fighter. As I noted previously, the IAF has repeatedly stated that the aircraft's Mark-I variant does not meet the service's specifications:
The IAF has listed several technical deficiencies found on the Tejas LCA Mark-I variant in 2017. These flaws will purportedly will be addressed in later variants of the aircraft, which will include 43 improvements over the existing version.
The IAF is also mulling placing an order for 83 additional Tejas LCA, including 73 single-engine Tejas LCA Mark-IA, and 10 tandem two-seat LCA trainer aircraft. The Indian defense minister stated in a recent interview that an order for additional aircraft has been placed. "[T]o ensure that [HAL's] order books don't dry out, we have given orders for 83 more," Indian Defense Minister Nirmala Sitharaman said in an interview in October. However, the order is reportedly pending and no contract has been signed as the aircraft still has to achieve FOC.
Another upgraded Tejas variant, designated Tejas Mark-II, of which the IAF could potentially order 200, will not be ready for its first test flight for at least another five years, according to reports. This may spell further trouble for HAL as it is unclear whether the service will still be interested in the latest version of the Tejas by then. Foreign competitors are aggressively pushing into the Indian military aircraft market and may offer cheaper and more effective alternatives.
For example, as I reported previously: "The Tejas LCA, when compared to Saab's JAS-39 Gripen and Lockheed Martin's F-16, has a reduced airborne endurance — 59 minutes versus three hours for the Gripen and nearly four hours for the F-16. The Tejas can also only carry a weapons payload of around three tons against nearly six tons by the Gripen and seven tons by the F-16."